Serbia's Vucic to Run for President, May Trigger Snap Vote
By
Party unanimously backs Vucic as presidential candidate

Allies urge Vucic to ensure unity with incumbent Nikolic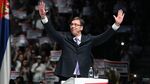 Serbian Prime Minister Aleksandar Vucic won the backing of his party to run in an April presidential election, a move that he indicated may bring the country's second early parliamentary ballot in a year.
The Serbian Progressive Party's leadership picked Vucic, who has been premier since 2014, as their candidate on Tuesday, it said in a statement. Vucic said he'd quit if he loses the vote, and his candidacy is an attempt to "eliminate any risk" of defeat for his party in the presidential ballot by an opposition candidate defeating the incumbent, less-popular Progressive member Tomislav Nikolic. The group's main board will meet to confirm his bid at a meeting on Friday, he said.
"I am going from the most powerful position to one which hasn't got a tenth of that power only to ensure continuity and stability," Vucic told the state broadcaster in an interview. "I can't exclude the possibility of snap parliamentary elections" to accompany the presidential ballot, he said, adding that the vote's date will be announced on March 1 or 2, he said.
Vucic, 46, has tried to strike a balance between promoting Serbia's bid to join the European Union and cementing economic ties with traditional ally Russia. He is by far the most popular politician in the Balkan country of 7 million people. Along with Nikolic and central bank Governor Jorgovanka Tabakovic, he left the nationalist Serbian Radical Party, a former ruling partner of late strongman Slobodan Milosevic and founded the Progressive Party in 2008 with a more moderate political agenda.
The Progressive leadership mandated Vucic to continue talks with Nikolic, "in the best faith, and to try to ensure full unity" and "defend Serbia from forces of the past," it said in a statement after the meeting. The party also said he should speak with his ruling coalition partners to "ensure wide, popular support for victory." 
Opinion Polls
A survey by Faktor Plus conducted Jan. 24-31 showed that Vucic would win 55.2 percent in the first of two potential election rounds. Other candidates include Vojislav Seselj, the head of Vucic's former Radical Party who was acquitted of war crimes last year.
"Vucic will inevitably win the election given his still strong popular appeal," said Timothy Ash, senior strategist at Bluebay Asset Management. "Vucic's de facto control over the ruling party, the Serbian Progressive Party, means that he will continue to pull the strings."
Vucic has pledged to prepare Serbia for EU membership by 2020 and agreed to a three-year accord with the International Monetary Fund to reshape the economy and cut the public deficit and debt.
— With assistance by Misha Savic
Before it's here, it's on the Bloomberg Terminal.
LEARN MORE