The Director of the Secret Service Says He's Leaving the Agency
By
Clancy took charge in 2014 after string of security lapses

Former head of Obama protective detail stabilized service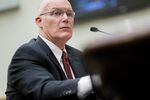 Secret Service director Joseph Clancy, who took over the beleaguered agency in the wake of a string of security lapses and personnel misconduct, announced he will retire early next month.
Clancy told staffers on Tuesday that his final day will be March 4. He had previously served as the head of former President Barack Obama's protective detail and was tapped to head the agency following the 2014 resignation of Julia Pierson from the top job at the agency. 
Pierson's exit followed a high-profile incident in which an intruder was able to scale the fence of the White House and run inside the presidential mansion before being apprehended, as well as revelations that a private security guard with a gun and criminal history had been allowed to board an elevator with Obama during a visit to Atlanta.
Clancy was a stabilizing force for the agency, helping shepherd it through a chaotic campaign season. In 2015, the Secret Service was providing simultaneous protection for Pope Francis during his four-city tour through the U.S. and the annual gathering of the United Nations General Assembly in New York.
Clancy "helped restore professionalism at the agency after a series of security lapses and incidents of misconduct over the past few years," House Judiciary Chairman Bob Goodlatte, a Virginia Republican, said in a statement.
But his tenure included controversies. Last month, a Secret Service agent was put on paid leave after posting to Facebook that she would rather do "jail time" than take a bullet for President Donald Trump. And in March 2015, Clancy told Congress he was disappointed he had not been informed for nearly a week that two agents drove their car into a White House barricade following a farewell party for a colleague.
Obama decided to give Clancy the job despite the recommendation of a Department of Homeland Security panel created to investigate the agency in the aftermath of the high-profile incidents, which recommended that the next director be hired from outside its ranks. The report also suggested hiring hundreds of additional employees and increasing training time, as well as redesigning the fence at the White House complex.
Jason Chaffetz, the Utah Republican who oversees the House Oversight Committee, said in a statement he would encourage Trump to appoint a director from outside the Secret Service.
"A fresh set of eyes and new perspective is needed to restore the prestige and status expected of such an elite agency," Chaffetz said.