Peugeot Owner PSA Explores Acquisition of GM's Opel Division
Aaron Kirchfeld, Siddharth Philip, David Welch, Ed Hammond and Ruth David
PSA says in talks to expand cooperation projects with Opel

Combination would create Europe's second-largest carmaker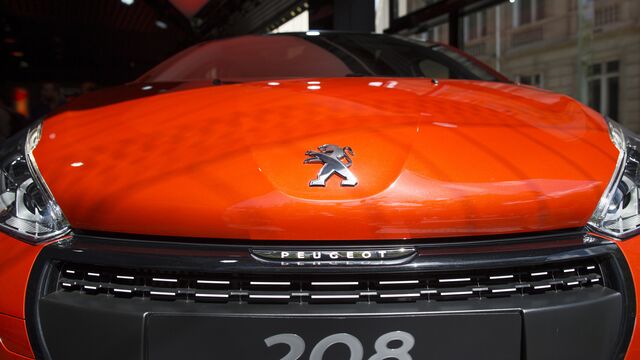 PSA Group, the maker of Peugeot and Citroen cars, is exploring an acquisition of General Motors Co.'s European business to cement a top position in Europe in a deal that could hasten consolidation of the region's crowded automotive landscape.
GM and the French carmaker are in talks on numerous strategic initiatives, including the possible sale of Opel to PSA, the companies said after Bloomberg reported the talks earlier Tuesday, adding there was no assurance an agreement will be reached.
The U.S. manufacturer is seeking a multi-billion dollar amount for Opel, which also operates U.K. sister brand Vauxhall, because of the outlook for the improved operations, according to a person familiar with the matter. Analysts at Macquarie estimated that Opel has an enterprise value of about 2.6 billion euros ($2.8 billion).

"Opel is strategically a good fit for PSA, complementing its exposure to the European car market," said Jose Asumendi, an analyst for J.P. Morgan. "The leap of faith in this transaction" would be the prospects for PSA to restructure Opel in Germany, "a situation which could be potentially more challenging" than its cost-cutting in France.
A combination would create a manufacturer with about 16 percent of the European car market, pushing past Renault SA to become the region's second-biggest auto group after Volkswagen AG. A deal would also be the second run at linking the two mass-market carmakers. GM, which has controlled Opel for nearly 90 years, sold a 7 percent stake in its French counterpart in 2013 after savings from a purchasing and development cooperation fell short of expectations.
PSA shares rose 4.3 percent to 18.70 euros, valuing the French company at 16.2 billion euros. GM jumped 5 percent at 11:44 a.m. in New York trading. European rivals Renault and Fiat Chrysler Automobiles NV climbed 4.1 percent and Renault advanced 3.1 percent as the deal could serve as a catalyst for squeezing excess capacity from the European car market.
While an agreement could be reached in the coming weeks, negotiations are complex and could still fall apart, said people familiar with the matter, who asked not to be identified because discussions are private. 
Volume Boost
PSA is considering the takeover to boost its scale, get access to Opel's engineering and electric-car technology as well as reap savings from joint purchasing and eventually cost cuts, according to one of the people. For GM, it would mark a clean exit from Europe, especially after the U.K. vote to leave the European Union weighed on the British pound and GM's operations in the country, the person said.
Both carmakers have gone through painful restructuring in recent years. GM, which has lost about $20 billion in Europe since 1999, closed a factory in Bochum, Germany, the first auto plant to close in the country since World War II, while PSA shuttered a facility in the Paris suburb of Aulnay. While those moves helped ease a supply glut, the two manufacturers largely target similar customers in Europe's competitive and mature auto market.
PSA's Top Sellers

Opel's Top Sellers

Peugeot 208 subcompact
Price: 12,600 euros
Astra compact
Price: 17,260 euros
Peugeot 308 compact
Price: 17,200 euros
Corsa subcompact
Price: 11,995 euros
Citroen C4 compact
Price: 17,240 euros
Mokka compact SUV
Price: 18,990 euros
The risk of relying on Europe was evident in 2014, when PSA sought a bailout from the French government and China's Dongfeng Motor Corp., which each hold 14 percent stakes along with the Peugeot family. Under Chief Executive Officer Carlos Tavares, PSA has returned to profit by focusing on fewer, more lucrative models, while his counterpart Karl-Thomas Neumann, a German auto-industry veteran, has refreshed Opel's image with models like the stylish Adam city car.
Brexit Woes
Still, Brexit has added fresh uncertainty for GM in Europe. The company postponed plans to return Opel to break even last year, citing costs associated with the U.K.'s EU exit. GM's European operations posted a loss of $257 million in 2016 after a deficit of $813 million the previous year. Opel, owned by GM since 1929, has struggled for years amid increasing competition from the likes of Hyundai Motor Co. and VW's Skoda.
Read more: Why GM wants to leave Europe after nearly 90 Years - a Q&A
In the aftermath of GM's bankruptcy, the U.S. automaker came close to selling the Ruesselsheim-based unit in 2009 under pressure from workers and the German government, but ultimately kept Opel to ensure a sizable presence in Europe. Its importance increased after GM pulled the Chevrolet brand from Europe, backing off on a planned expansion. Still, even after squeezing out costs and upgrading its lineup, Opel has lost market share in Europe in recent years and isn't profitable.
"I can see why GM may possibly seek to sell its European division," said George Galliers, an analyst with Evercore ISI. "It is less clear why Peugeot would be interested in buying GM's assets. The purchase would give them capacity in Germany, one of the most expensive countries to produce cars and would lead to excess capacity."
Before it's here, it's on the Bloomberg Terminal.
LEARN MORE