OCBC Stirs Bad-Loan Concerns as Chief Says No End in Sight Yet
By
Singapore bank shares slump after OCBC provisions jump 57%

Rivals DBS, UOB to report quarterly earnings later this week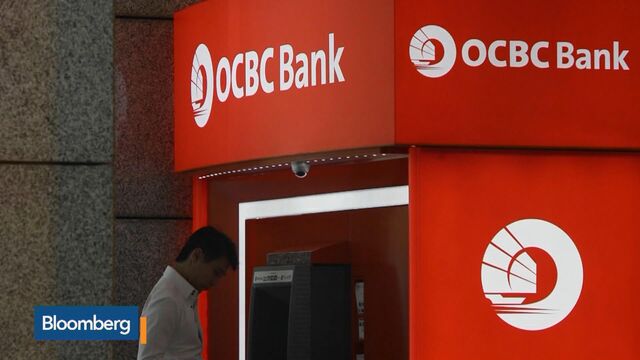 Oversea-Chinese Banking Corp. reignited investor concerns over Singaporean lenders' exposure to the struggling oil and gas services industry as its quarterly results revealed a surge in bad-loan provisions and its chief executive officer signaled more pain to come.
Shares of OCBC, Southeast Asia's second-largest lender, fell the most in six months after the jump in loan allowances caused fourth-quarter profit to miss analysts' estimates. Nonperforming assets increased 42 percent from a year earlier, and CEO Samuel Tsien said they included some Singaporean oil and gas companies.

"At this point in time, I am not able to say whether the stress in the oil and gas sector has ended," Tsien told reporters Tuesday after the earnings were released. "For the period of the next six months, there will continue to be volatility, uncertainty and more distress."
Charges for energy loans have colored the results reported by Singapore's banks over the past year, adding to pressure from a weakening domestic economy and slower lending growth. Reduced demand for oil and gas services has led at least four companies into default, the highest profile of which was Swiber Holdings Ltd., which sought court protection in July.
OCBC shares sank 3.2 percent to S$9.44 as of 2:04 p.m. Singapore time, after earlier slumping 3.4 percent, the biggest intraday decline since Aug. 3.
The oil and gas concerns weighed on shares of its two competitors. Larger rival DBS Group Holdings Ltd., which publishes its results Thursday, slid 2.9 percent, the most since July. United Overseas Bank Ltd., which reports on Friday, lost 1.8 percent.

While the problem hadn't broadened, loans to the energy industry that had soured continue to deteriorate, Tsien said at the briefing. OCBC has been reducing the valuation of collateral underpinning its oil and gas loans over the past several quarters, he said.
"The situation is very fluid," Tsien said. "I would think think that by June of this year, the situation will be more stabilizing. But stabilizing doesn't mean recovery."
Almost 10 percent of OCBC's S$13.4 billion ($9.4 billion) of oil and gas loans had soured, compared with 6.4 percent a year earlier, OCBC said in an exchange filing. Those loans accounted for 6 percent of the bank's total advances to customers, the filing showed.
In the latest sign of the energy-services industry's troubles, Ezra Holdings Ltd. on Feb. 3 flagged a possible writedown on a joint venture, as it negotiates -- along with a host of its peers in marine services -- for more lenient repayment terms with banks and creditors.
Tsien declined to comment on OCBC's exposure to Ezra. The firm and its related companies owe S$1.1 billion to Singapore's three banks, CIMB Group Holdings Bhd. said in a Feb. 2 report, citing its own estimates.
OCBC's net allowances for loans and other assets jumped 57 percent in the fourth quarter from a year earlier to S$305 million, the bank said in the filing, exceeding the S$245 million estimated by RHB Research Institute. That helped drag net income down by 18 percent to S$789 million, missing the S$864 million average forecast in a Bloomberg analyst survey.
Read this for more figures from OCBC's earnings report.
Nonperforming assets increased 42 percent from a year earlier to S$2.89 billion, as soured assets in Singapore and Indonesia jumped.
"Results were slightly disappointing given higher credit cost," Melissa Kuang, an analyst at Goldman Sachs Group Inc., said in a note. "There could be some concerns remaining" over the asset quality in oil and gas services, she wrote.