Jakarta Vote Heading for April Run-Off With Jokowi's Pick Ahead
By and
Early count shows Purnama, Baswedan leading first-round vote

No reports of unrest after fiery campaign marred by protests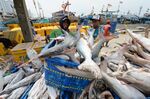 The race to run Jakarta appeared headed for an April run-off after no candidate was on pace to win an outright majority in Wednesday's election.
Early unofficial tallies compiled by the Charta Politika polling agency showed Basuki Tjahaja Purnama, who is backed by President Joko Widodo, leading with 43 percent of the vote. Close behind with about 40 percent was Anies Baswedan, who has the support of former general Prabowo Subianto. Official results are expected after Feb. 27.
The bid to lead Jakarta, a city of more than 10 million people with an annual budget of $5.2 billion, is the most closely watched of more than 100 local elections being held across the sprawling Southeast Asian archipelago. The campaign was marked by a blasphemy case against the incumbent, Ahok, 50, an ethnic Chinese Christian who assumed the governorship when his running mate Widodo won the presidency in 2014.
After casting his vote, Widodo called on people to respect the choices others make. "Let us not allow political differences to destroy our unity," Widodo said. "I hope that all can be united again as brothers for the sake of the country's unity after the elections."
To read more about the Jakarta election, click here
Agus Harimurti Yudhoyono, the 38-year-old son of former president Susilo Bambang Yudhoyono, was in distant third with 17 percent.
Despite the ongoing blasphemy trial to determine if Ahok insulted Islam when he criticized those who said the Koran stated Muslims shouldn't be led by a non-Muslim, recent surveys show him leading among the city's 7 million eligible voters. If Ahok eventually wins and is later found guilty of blasphemy, he would be immediately dismissed as governor.
Special Moment
Speaking to reporters as he voted Wednesday morning in South Jakarta, Baswedan said he was praying for a positive result.
Ahok urged people to exercise their right to vote "because the choice you make will surely determine the future of Jakarta."
There were no reports of violence or unrest at polling stations across the city.
Central Jakarta resident Aswin Haznam, 37, said he voted for Ahok because of the changes he had made, including expanding the city's green space and reforming the bureaucracy.
"The issue of religion may be a problem for older people but for younger people it is not a problem," Haznam said.
Before it's here, it's on the Bloomberg Terminal.
LEARN MORE