Inflation Alarms Expose Vulnerability in Richly Priced S&P 500
By
Higher inflation tends to be associated with lower valuations

CPI above 4% is key level to watch for P/E contractions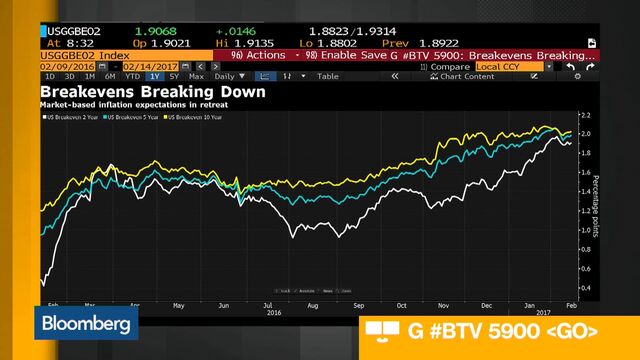 Investors have spent a decade beseeching heaven for inflation. Given the market's vulnerability to valuation shocks, they should be careful what they pray for.
While pricing power is an obvious fillip to economies and earnings, its restoration does funny things to price-earnings ratios. So says a study by Strategas Research Partners on data since 1950, which found the higher the consumer price index, the lower the S&P 500 Index's valuation.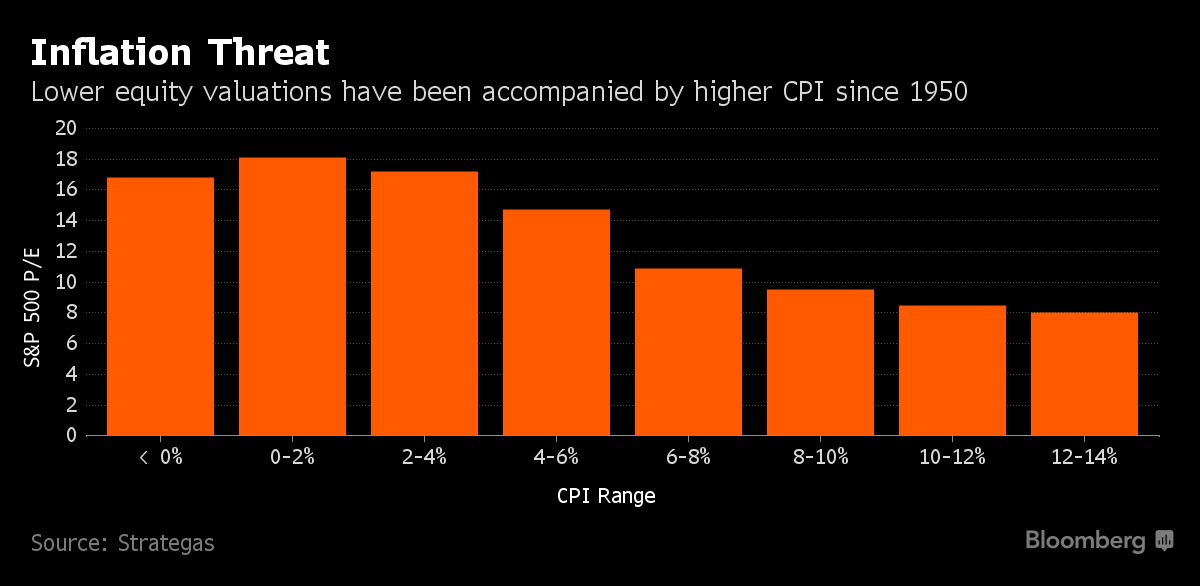 The government is due to release the latest data on consumer prices Wednesday. Inflation rose above 2 percent for the first time since 2014 and economists say the CPI stayed there in January. All good: that's a level Strategas's data show corresponding with some of the highest multiples in stocks. Indeed, at 21 times profits, the S&P 500 -- which has rallied 4 percent so far in 2017 -- is valued 24 percent above its 10-year average.
But watch out if it gets much higher. Seth Klarman, chief executive officer of the $30 billion Baupost Group, warned in an investor letter last month that President Donald Trump's stimulus efforts "could prove quite inflationary, which would likely shock investors."
Tobias Levkovich, Citigroup Inc.'s chief U.S. equity strategist, in a Feb. 3 note identified "an anticipated spike in inflation" as one of the key risks to the market. A Labor Department report showed Tuesday that U.S. wholesale prices jumped in January by the most since September 2012, indicating inflation is beginning to stir.
Why is higher inflation bad for stock valuations? One explanation is the role it plays in affecting the price of bonds, often seen as competition for equities. As the theory goes, bond yields tend to go higher when inflation rises and in order to stay attractive, equity P/Es need to go down. According to Strategas, S&P 500 P/Es contract the most once CPI rises above 4 percent.
While price pressures remain far from the danger zone, the Citi Inflation Surprise Index shows global inflation exceeded market expectations for two months in a row, the first time in almost five years.

Lower valuations don't always cause trouble for the stock market as long as profits grow faster. But for now, the earnings picture is not promising. S&P 500 companies just returned to growth after five quarters of declines. While analysts see income jumping 12 percent this year, the rate appears to be too optimistic given the economy is forecast to grow only 2.3 percent.
After living through years of deflation fear amid the slowest economic recovery from a recession since the World War II, investors are now embracing the prospect of faster growth and higher inflation, underpinned by Trump's pro-growth agenda. Money has flown to banks and companies most geared to an economic upswing in a rally that has added more than $2 trillion to stock value since the election.
They are also turning to companies least exposed to rising costs such as wages. A Goldman Sachs Group Inc. basket of the 50 S&P 500 firms with the lowest labor costs beat one of high-payroll companies by almost 6 percentage points in the past six months. While Goldman strategist David Kostin expects S&P 500 earnings to expand this year, he sees the market making little progress as rising inflation and interest rates are likely to lead to a drop in P/E multiples.
"Our economists still believe that building inflationary pressures are higher than markets expect," Kostin wrote in a Feb. 10 note.
— With assistance by Michael P. Regan
Before it's here, it's on the Bloomberg Terminal.
LEARN MORE