In Tense Obamacare Town Hall, GOP Lawmaker Calls Fears 'Genuine'
By
Florida's Bilirakis says it is his job to listen, not hide

Some Republicans have dismissed protests as liberal stunts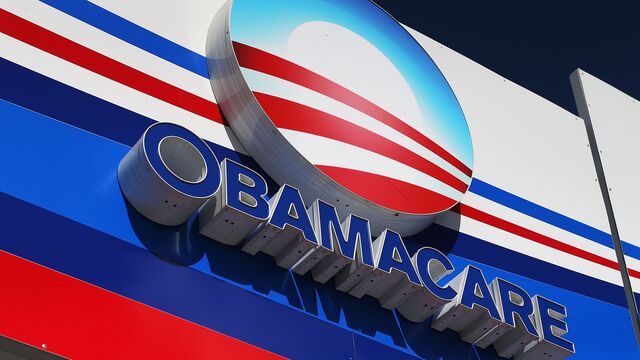 Representative Gus Bilirakis was determined to walk into his health-care town hall in Florida through the front door -- even though local deputies suggested a side door might be a safer route.
"Nah," said the sixth-term Republican congressman, of the notion of keeping such distance from constituents angry and confused about plans by President Donald Trump and congressional Republicans to repeal and replace Obamacare.

"Their worries are real. And their stories are genuine," Bilirakis said Saturday during a car ride to the event at a local government office in New Port Richey, near Tampa. When Bilirakis's vehicle pulled up, an overflow crowd was waiting with signs that read "Care NOT Chaos!" and "What Do You Say To The 43,000 In Your District Who Depend On The Affordable Care Act?" 
Similar scenes are playing out across the country when Republican lawmakers face their constituents at town halls, amid concern about GOP plans to undo the Affordable Care Act and liberal activists' efforts to stoke those fears. It reached the point where House Republicans were urged by leaders during a closed-door session in Washington last week to consider arranging for more security at their events.
House Budget Chairwoman Diane Black was booed Thursday night at a contentious town hall in Tennessee; Representative Jason Chaffetz of Utah complained that some protesters at his event in Salt Lake City Thursday may have been paid; and Representative Tom McClintock of California was evacuated by police from a town hall he held earlier this month when protesters turned unruly. 
Some Republicans have dismissed the protests as being orchestrated by Democrats. At Bilirakis's Florida event, some local activist groups were capitalizing on the attention to sign up new members. A potential 2018 Democratic challenger to Bilirakis -- in a district won last year by Trump -- was also handing out information.
'My Constituents'
But Bilirakis, 54, who sits on the Energy and Commerce subcommittee on health, said he had no doubts about how genuine the emotions were at his meeting, which grew tense at times.
"Most of these people are my constituents," he said. "I don't have any question that they are authentic."
More than 300 people showed up for the meeting, and some were told they would have to stay outside and listen by loudspeaker. Amid chants of "Where's your plan? Where's your plan?" a deputy walked up and asked Bilirakis, "You OK?" He said he was.
Early on, Bilirakis told the audience that Republicans in Congress "more than likely have the votes to repeal," prompting loud jeers from the crowd. He assured them that he wouldn't go along with repeal until a replacement plan is in place, although he offered only a few general principles.
'Hear You Out'
"I wouldn't be a good congressman if I didn't hear you out," he said before the question-and-answer session that lasted almost two hours.
He spoke at one point about his reliance on a hearing aid, saying that those wishing to ask a question needed to speak up; he moved closer to each person who was handed the microphone. He also reminded the crowd that many of them might have voted for his father, who held the congressional seat for 12 terms before retiring.
Bilirakis mentioned several times that he is co-sponsoring bipartisan legislation he says will encourage bringing new generic drugs to the market and increase price competition.
Defending Obamacare
Several people got up to speak about what Obamacare has meant to them or their families. A few local business owners said they didn't want to see Obamacare repealed, while a doctor said that under the new law, more patients are getting preventive treatments they need.
Donna Bradley, 60, of New Port Richey, told Bilirakis that she appreciated his attentiveness, but wants him to do more.
She said she wants him to "be our hero," represent those in the room, and not "just fall in line" with House Speaker Paul Ryan and GOP leaders in Washington. Bilirakis promised he will and announced he'll be holding another town hall in a few weeks.
The most heated moment came when Bill Akins, a secretary of a Pasco County GOP executive committee, said that one thing wrong with Obamacare was a panel for elderly patients "that is, effectively a death panel."
'I Am Not Lying!'
"I am not lying!" Akins said to Bilirakis, who appeared caught off-guard by the claim. Bilirakis didn't outright dispute him, but explained that Akins was referring to the Independent Payment Advisory Board, a panel that issues recommendations for reducing Medicare's cost.
Mary Anne Dorner, 71, an Episcopal priest, said she and her husband decided to attend a town hall for the first time. She said they wanted to make sure their congressman knew they didn't want Obamacare repealed unless there was an improved replacement. 
"It's good to know we have a congressman who is not afraid to show up and listen to his constituents," she said afterward. "I don't see any paid protesters here."
In Writing
After the meeting, Bilirakis said he got the message loud and clear that congressional Republicans must have something concrete -- in writing -- as a replacement before proceeding with any Obamacare repeal.
"You saw I went right out the front door, right? And then I talked to people outside who couldn't get in?" said Bilirakis. "This was beneficial to me to do my job."
"I think I did OK," he said.
Before it's here, it's on the Bloomberg Terminal.
LEARN MORE