Greek Economy Unexpectedly Contracts as Next Crisis Brews
By
GDP fell 0.4% in 4Q after two quarters of economic expansion

Country's economy grew 0.3% in 2016, calculations show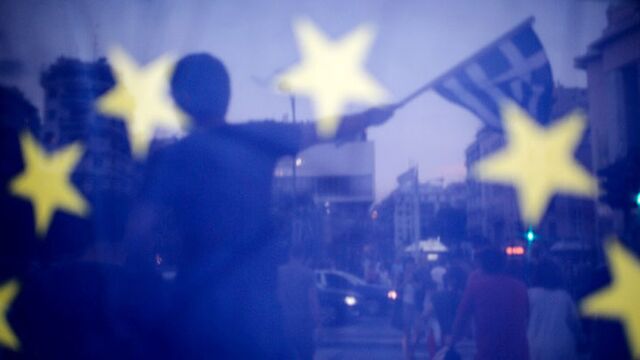 Greece's economy unexpectedly contracted in the fourth quarter, putting a dampener on its growth throughout the year and adding to Prime Minister Alexis Tsipras's woes as he tries to find a way to unlock bailout funds.
Gross domestic product fell 0.4 percent in the final three months of 2016 after growing a revised 0.9 percent in the previous quarter, the Hellenic Statistical Authority said in an e-mailed statement on Tuesday. The median estimate in a Bloomberg survey was for a 0.4 percent expansion. The economy grew 0.3 percent over the whole year, according to Bloomberg calculations.

Greece is locked in a dispute with creditors as Tsipras's government balks at legislating further budget cuts that would kick in if it misses ambitious fiscal surplus targets for 2018 and beyond. The country risks another recession and even greater austerity measures if it doesn't immediately strike a deal for the release of bailout funds, Bank of Greece Governor Yannis Stournaras said on Monday.
"Most of the recovery in the third quarter had been driven by consumption," said Tassos Anastasatos, an economist at Eurobank Ergasias in Athens. "Toward the end of the year doubts already started to emerge that the review would close quickly, and that may have made people more cautious about their spending."
For an explanation of the dangers Greece faces, click here
Work to complete the country's bailout review is continuing from headquarters, with no date set for the return to Athens of officials representing the European Commission, European Stability Mechanism, European Central Bank and International Monetary Fund, Commission spokeswoman Annika Breidthardt told reporters in Brussels on Tuesday.
The Commission on Monday said it expects the Greek economy to expand 2.7 percent this year and 3.1 percent in 2018. Uncertainty over completion of the current bailout review poses a downside risk to those forecasts, the Commission said. A 0.3 percent growth rate for 2016 is in line with the Commission's report, and compares with its prior forecast for 0.3 percent contraction.
Tuesday's data showing growth for the year proves the economy is performing better than expected and that no more austerity measures are needed, Greek government spokesman Dimitris Tzanakopoulos told reporters on Tuesday. The government won't pass one more euro of extra austerity measures, he said.
Tuesday's data showed a fourth-quarter annual expansion of 0.3 percent, down from a revised 2.2 percent in the previous quarter. The quarterly expansion in the three months through September was adjusted to 0.9 percent from 0.8 percent.
Frequent and large revisions in the country's GDP data complicate analyses of the economy, the IMF said in a report last week.