Fiscal Policy or Not, Yellen Says Outlook Supports Raising Rates
by and
Fed chief says FOMC not basing hiking plans on fiscal plans

Yellen warns that waiting too long could also have costs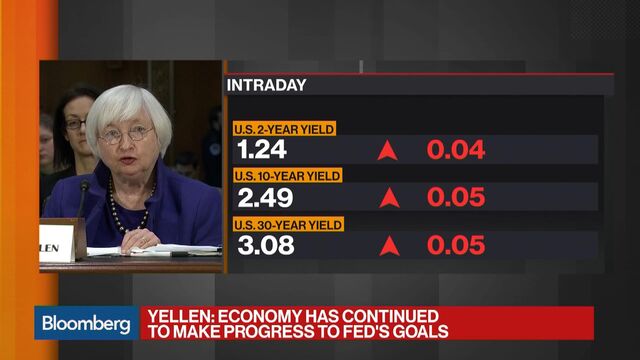 Federal Reserve Chair Janet Yellen sounds like she's on a mission to raise interest rates this year -- no matter what President Donald Trump does on tax cuts and spending.
In a clarifying point during Senate questioning on Tuesday, Yellen said her monetary policy panel doesn't need to wait for the Trump's administration's plans on fiscal stimulus to hike rates.
"We are not basing our judgments about current interest rates on speculation" about fiscal policy, Yellen told Nevada Republican Senator Dean Heller. She added that the economy's "solid progress" is what is "driving our policy decisions."
It's a subtle but important switch from a year ago, when the Federal Open Market Committee started with a plan for four rate hikes, and was already worrying by March about the state of the global economy. In the end, they hiked a single time, in December.
Watch Part of Yellen's Testimony to Senate Committee
The committee's conviction about its plans for three hikes this year boils down to a shifting sense that upside risks this year look as potent as downside risks, if not more. Business sentiment indicators are up, and that could lead to stronger investment. The committee in December forecast that labor markets would slightly overshoot their estimate of full employment, which could put some momentum behind inflation.
"You really have to turn over a lot of stones to find that shadow slack in labor markets," said Michael Feroli, chief U.S. economist at JPMorgan Chase & Co. in New York, who said the Fed chair's comments were consistent with a rate hike in the first half of this year. "For her, it is really about inflation risks" as the unemployment rate heads lower, Feroli said.

Yellen also said that the committee "in the coming months" will provide further guidance on how it plans to shrink its $4.5 trillion balance sheet. "I would anticipate a balance sheet that's substantially smaller than at the current time," she said in response to a question.
U.S. Treasury securities sold off on her testimony, raising the yield on the government 10-year note to 2.48 percent from 2.43 percent the previous day. Probabilities for a March rate increase moved back above 30 percent.
Yellen's semiannual report on monetary policy is her first since Trump became president. During the hearing, Yellen addressed a question about her future, saying she has no plans to leave before her current term as Fed chair expires in a year.
New Administration
Speaking separately at the White House press briefing when asked about the administration's view of Yellen, newly installed Treasury Secretary Steven Mnuchin said he looks forward to meeting with her to continue the tradition of regular discourse between the Treasury and the Fed.
Yellen reiterated that falling behind on inflation could do more harm to the economy and possibly cut short the expansion. The Fed's preferred inflation benchmark, the personal consumption expenditures price index, has been below the central bank's 2 percent target since April 2012. It finished with a gain of 1.6 percent last year.
"Waiting too long to remove accommodation would be unwise, potentially requiring the FOMC to eventually raise rates rapidly, which could risk disrupting financial markets and pushing the economy into recession," she added.

Tom Porcelli, chief U.S. economist at RBC Capital Markets LLC in New York, said Yellen's view was "that things are looking pretty good from the labor market perspective."
"She's had plenty of opportunity to back away from three hikes this year, and she did not," he said.
Before it's here, it's on the Bloomberg Terminal.
LEARN MORE