Fillon Grapples With Party Rebels in Tightening French Election
By and
Le Pen holds large lead for first round, would lose in second

Republican candidate to meet former President Nicolas Sarkozy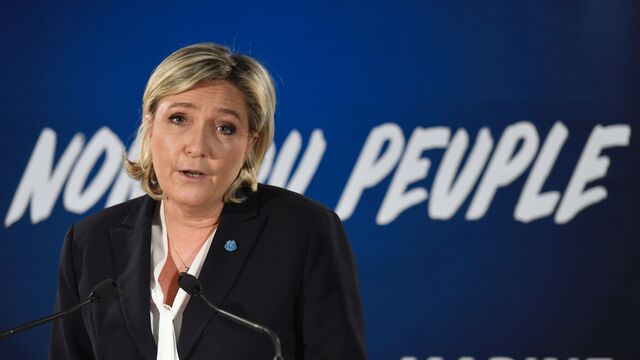 French presidential contender Francois Fillon is grappling with resistance to his candidacy within his own Republican party even as polls show a tight race with Emmanuel Macron to reach the second round of voting with National Front leader Marine Le Pen.
One month after a scandal broke about Fillon's employment of his wife and children as parliamentary aides, Republicans in cities such as Limoges and Clermont-Ferrand in central France have proved reluctant to set up campaign events for their party's candidate, Le Figaro reported Tuesday. Following a meeting late Monday in which Fillon told top Republicans that his withdrawal would create a "major crisis," lawmaker Georges Fenech said the party is in a "disastrous situation."
With just over two months to go until the first round of voting, anti-immigrant, anti-euro candidate Le Pen remains well ahead in the polls for the initial ballot, though not the run-off. Fillon, who started the year as the front-runner, is still within about two percentage points of independent Macron, according to daily tracking polls by both Ifop and OpinionWay. Such a gap is equivalent to the margin of error, meaning it's difficult to predict which of those two will make it to the run-off with Le Pen.
"The political balance of power is far from being settled," said Yves-Marie Cann, a pollster at Elabe in Paris. "The strong volatility of voting intention over the past two weeks demonstrates that."
About 27 percent of voters currently plan to back Le Pen in the first round of voting, compared with 22 percent for Macron and 20 percent for Fillon, according to OpinionWay. Macron's lead over Fillon has shrunk to one point in the Ifop poll from 3.5 points Feb. 2, with
the rivals on 19.5 percent and 18.5 percent respectively.
The renewed criticism from within the party ranks is complicating Fillon's efforts to draw a line under the scandal over reports that his wife never really worked while claiming a public salary. On Tuesday night, the satirical newspaper Le Canard Enchaine, which revealed the details of Fillon's wife's job, said that one of the candidate's top aides is under investigation by the Nanterre prosecution office over potential tax fraud.
Hurdle Ahead
So far, all opinion surveys show Le Pen would lose the run-off against either Fillon or Macron. To be able to be elected she would probably need to triple the number votes she won in the 2012 first round.

Fillon will lunch with former President Nicolas Sarkozy Wednesday before holding a political meeting in Compiegne, north of Paris. He will give a press conference in the capital Thursday. Le Pen traveled Monday to the French-Italian border to discuss illegal immigration.
With fears about immigration and public security topping lists of voter concerns, Le Pen started an online petition to support the police as her aides condemned protesters and unrest that has plagued rough Paris suburbs in recent days. Some satellite towns around the capital have seen violence almost every night since Feb. 5, when four policemen were charged with attacking a young black man in Aulnay-sous-Bois, close to where riots erupted 12 years ago.
"The real poverty is in farmland, and I don't seem them burning cars," Marion Marechal-Le Pen, the candidate's niece, said on France 2 Tuesday as she sought to dismiss those committing violent acts in the distressed suburbs across the country. Nicolas Bay, one of Le Pen's campaign spokesmen, said on the RMC radio the same morning that "all the terrorists are immigrants," causing debate and prompting Le Monde newspaper to publish a fact-check to prove him wrong.
Cyber Attacks
The 39-year-old Macron, meanwhile, has been reporting repeated cyber-attacks on his campaign as well as becoming the object of fake news reports, blaming Russian interference for both. Kremlin spokesman Dmitry Peskov denied Russia had any involvement in hacking the campaign in a conference call on Tuesday. He said there is no possibility that the Russian government had any connection to the attacks and that the accusations were "absurd."
Still, the Macron campaign hasn't backed down and has called for action on the part of the French state. President Francois Hollande's office confirmed that cybersecurity and the impact on the presidential race will be on its weekly defense council agenda.
"Let's not let Russia destabilize France's presidential election!" Macron's campaign chief, Richard Ferrand, wrote in a column in Le Monde newspaper dated Wednesday. "What we want to do is to dedicate ourselves to our campaign and our program within the calm assured by the rules of our democracy."
Before it's here, it's on the Bloomberg Terminal.
LEARN MORE