markets
Fed Must Watch Trump Fiscal Steps, Former Treasury Official Says
By
Central bank also has to consider tax reforms, Reganti says

Comments come ahead of Yellen's testimony to lawmakers Tuesday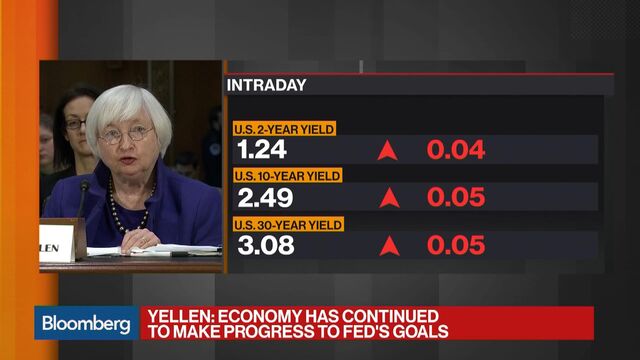 The Federal Reserve must weigh a number of steps by the administration of President Donald Trump as it considers its next interest-rate increase, a former Treasury Department official said.
"There's a lot of variables they have to consider about what type of fiscal package actually happens, what type of corporate tax reforms actually take place," Amar Reganti, a fixed-income strategist in the asset-allocation group at GMO LLC in Boston and a former deputy director of the Treasury's Office of Debt Management, said in an interview in Sydney.
"They're like other people -- they don't necessarily know, they have to figure it out and probably do their best to get ahead of events and not be overly reactive," he said. GMO managed $88 billion in funds as of Sept. 30.
Fed Chair Janet Yellen is expected to keep the central bank's options open in semi-annual testimony to lawmakers in Washington on Tuesday, ahead of its next policy meeting in March. Yellen said last month that the economy had made "considerable progress" toward the Fed's objectives of 2 percent inflation and full employment, but wasn't at risk of overheating. The man to be entrusted with persuading Congress to raise the nation's debt ceiling before September, Steven Mnuchin, was confirmed as Treasury secretary on Monday.
Pacific Investment Management Co. warned investors not to underestimate the chance of a misstep by the Fed. The U.S. central bank may tighten monetary policy faster than markets expect over the next two years in part as changes to key staff affect the sway of decisions, Joachim Fels, Pimco's global economic adviser, told a conference in Sydney Tuesday via a videolink from the firm's headquarters in Newport Beach, California.
Before it's here, it's on the Bloomberg Terminal.
LEARN MORE