Dutch Fund Managers Worry More Over Le Pen Than Wilders
By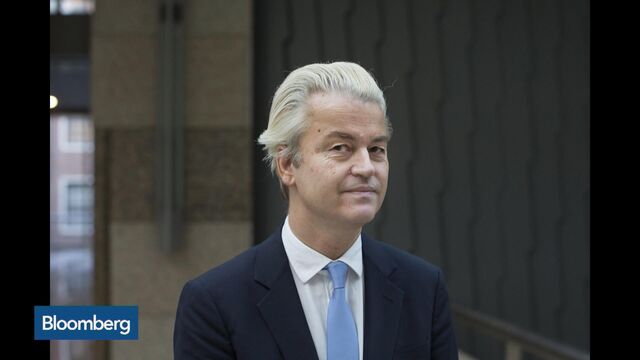 When a politician leads in the polls after proposing to shut the country's mosques, pull it out of the European Union and dump the euro, stock investors would normally lose sleep. But Dutch nationalist Geert Wilders doesn't worry local fund managers much.

Mollified by the quirks of a political system that could prevent him from gaining control of parliament, they're more concerned that a strong showing by his Freedom Party in the March 15 elections will stoke populism in France. Polls in the euro-region's second-largest economy give French eurosceptic candidate Marine Le Pen a strong chance of passing through the first round of presidential elections in April.
The Dutch vote is getting global attention as it kicks off this year's busy political calendar in Europe. Traders stung by outcomes of the Brexit referendum and the U.S. presidential election are watching for signals of any new strength to the populist backlash against supranational government across the EU -- and whether it would hurt stocks. So far, volatility has dropped for both countries' benchmark indexes, as it has in many major markets globally.

In the AAA-rated Netherlands, investors say the political system is stable enough to withstand months of talks on a coalition government. They see Wilders's Freedom Party coming well short of an absolute majority, and know that Dutch Prime Minister Mark Rutte, whose Liberals are No. 2 in the polls, has ruled out working with him.
The latest GfK poll shows Wilders's momentum fading: The Freedom Party is now projected to get five fewer seats in the 150-member parliament than was forecast in the January survey. While Le Pen also faces large hurdles to gaining power, a victory can't be ruled out and would spark a capital flight from France and peripheral euro nations, according to Commerzbank AG.
Here's how some of the nation's biggest money managers see the Dutch vote and its ripple effect for European markets, as well as how they recommend others position:
ABN Amro Bank

"The Dutch election is important because it could be a signal for what could happen in other, larger countries more important for stock markets," said Ben Steinebach, the Amsterdam-based head of investment strategy at ABN Amro's private bank in the Netherlands. The firm oversees roughly 200 billion euros ($214 billion). "If volatility increases, we will gradually lower our equity exposure. At the moment, I don't see too much nervousness."
Robeco
"There would certainly be headlines rolling, but little actual impact on the equity market," said Lukas Daalder, chief investment officer for investment solutions at Robeco in Rotterdam, referring to a strong showing for the Freedom Party, known by its initials PVV. His firm manages 137 billion euros. "PVV's policy would have to be watered down if they want to participate in the government. If Marine Le Pen wins in France, that would be a game changer" for the market, he said.
ING Bank
"Volatility has been so low, but something has to give -- equity volatility will go up again," said Simon Wiersma, an investment manager at ING Bank NV in Amsterdam, whose firm oversees about 26 billion euros. "Investors should scale back on risky assets, because it's better to be safe than sorry. The most important election this year will be the French."
Wiersma's firm has been reducing its exposure to global equities, including European stocks, since the beginning of 2017. In the Netherlands, he said, the coalition-building process will take some time as leading politicians have already dismissed the idea of forming a government with the PVV.
NN Investment Partners
"One potential scenario is that the Netherlands won't have a government for maybe a year, and given that the country doesn't need reforms, we can live with that, no problem," according to Patrick Moonen, a Hague-based strategist at NN Investment Partners, which manages $224 billion. "This is not a real risk for the euro zone in the short and medium terms."
— With assistance by Blaise Robinson
Before it's here, it's on the Bloomberg Terminal.
LEARN MORE