Wanda Group Considering Purchase of Financial Firms
Bloomberg News
Move indicates Chinese group could be making push in finance

Group says it hasn't held talks with Postbank after FT report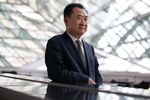 Billionaire Wang Jianlin's Dalian Wanda Group Co. is examining potential purchases in the financial industry as the Chinese conglomerate seeks to bolster that business, people familiar with the matter said.
Wanda is looking at European banks, one of the people said, asking not to be identified because the matter is private. The Beijing-based conglomerate is also looking at securities firms both at home and abroad, another person said.
The Financial Times reported on Monday Wanda is actively looking into several European financial institutions and that Deutsche Postbank AG was on the list of candidates. The Chinese group then issued a statement saying it had not held discussions with Postbank.
Yet Wanda's study of possible targets signals the closely held company, which has been expanding into Hollywood in recent years to diversify away from its property roots, could be making a broad push into banking. Last year, the group reorganized its financial business, which includes a life insurer, and hired the former chairman of a Chinese bank.
Such a move, particularly if it involved the acquisition of a European bank, would be fraught with challenges, according to Wei Hou, a Hong Kong-based analyst at Sanford C. Bernstein.
"The chance of Wanda buying a European bank is rather slim," Hou said by phone on Monday. "It won't be easy for Wanda to get approval from regulators in Europe because they don't normally allow companies without banking operating background to take over their banks."
One company that's recently bought into European banks is Shanghai-based Fosun International Ltd., which recently said it increased its stake in Portugal's Banco Comercial Portugues to almost 24 percent.
Wanda's financial division, founded in July 2015, began with a focus on internet finance but the business was overhauled last year and is now headed by Dong Jianyue, former chairman of China Guangfa Bank Co. The business includes an investment company and Aeon Life Insurance.
— With assistance by Jeanne Yang
Before it's here, it's on the Bloomberg Terminal.
LEARN MORE