markets
Traders Seek $100-Million-Plus Bonanza From Bund Bets on Le Pen
By
Bund options target 10-year yields at zero after first round

Premiums higher than 10 million euros paid since start of year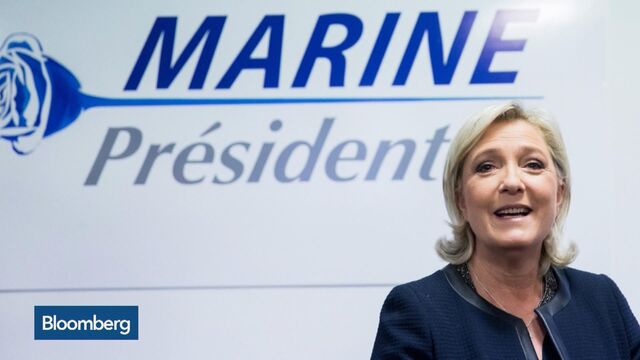 A payout of more than 100 million euros ($106 million) may be beckoning for options investors if the German 10-year yield drops to zero in the aftermath of France's elections.
Traders have been snapping up bund options at a brisk pace to gain from the potential possibility of National Front candidate Marine Le Pen becoming president. While the latest opinion polls show she is likely to lead the first stage of voting before faltering in the second round, the political shocks of 2016 have left traders on edge about the potential for more surprises.

One of the more popular examples of such a trade since the start of the year has been seen in long-call calendar spreads, with a premium of about 11 million euros paid on these exchange-traded options cleared through the Eurex platform, according to people familiar with the matter. If the bets play out to script, the trade will earn a gross profit of 114 million euros, leaving a net profit of about 103 million euros.
To see more ways that traders are hedging the French election outcome, click here
The bulk of the trades are from a single investor, according to people familiar with the matter who asked not to be identified because they aren't authorized to speak publicly.
German 10-year bunds currently yield about 0.30 percent, so a decline to zero would represent a significant increase in demand for haven assets. That would mirror moves seen after the U.K.'s Brexit vote, which saw the yield drop to a record minus 0.21 percent.
The Structure
There are two parts to the trade. In the first section, the investor sells a call and a call spread expiring in April, betting that bund futures will slide going into the first round of election. In the second, the investor buys a call and a call spread betting that bund futures will rise by the end of May, covering the second round of the French vote on May 7.
The call that is sold to expire in April has a strike of 162.50, while the one bought for May has a strike of 163. The call spreads have the same strikes: 163.50 and 165.50. The maximum profit on the bought call spread is capped at 165.50, which equates to a yield of zero.
| | | | | |
| --- | --- | --- | --- | --- |
| May Expiry (Options Sold) | June Expiry (Options Bought) | Size | If May options expire with June bund futures around current levels (160.70), payout is... | If June options expire after Bund futures rally to 165.50, payout is... |
| Call Spread | Call Spread | 30k | 7.6m | 43.9m |
| Call | Call | 30k | 21.6m | 41.1m |
| | | | 29.2m | 85m |
Before it's here, it's on the Bloomberg Terminal.
LEARN MORE