Samsung's Lee Questioned as Prosecutor Mulls New Warrant Request
Jungah Lee and Hooyeon Kim
Special prosecutor resummoned Samsung's heir-apparent

Second questioning comes after court rejected Lee's arrest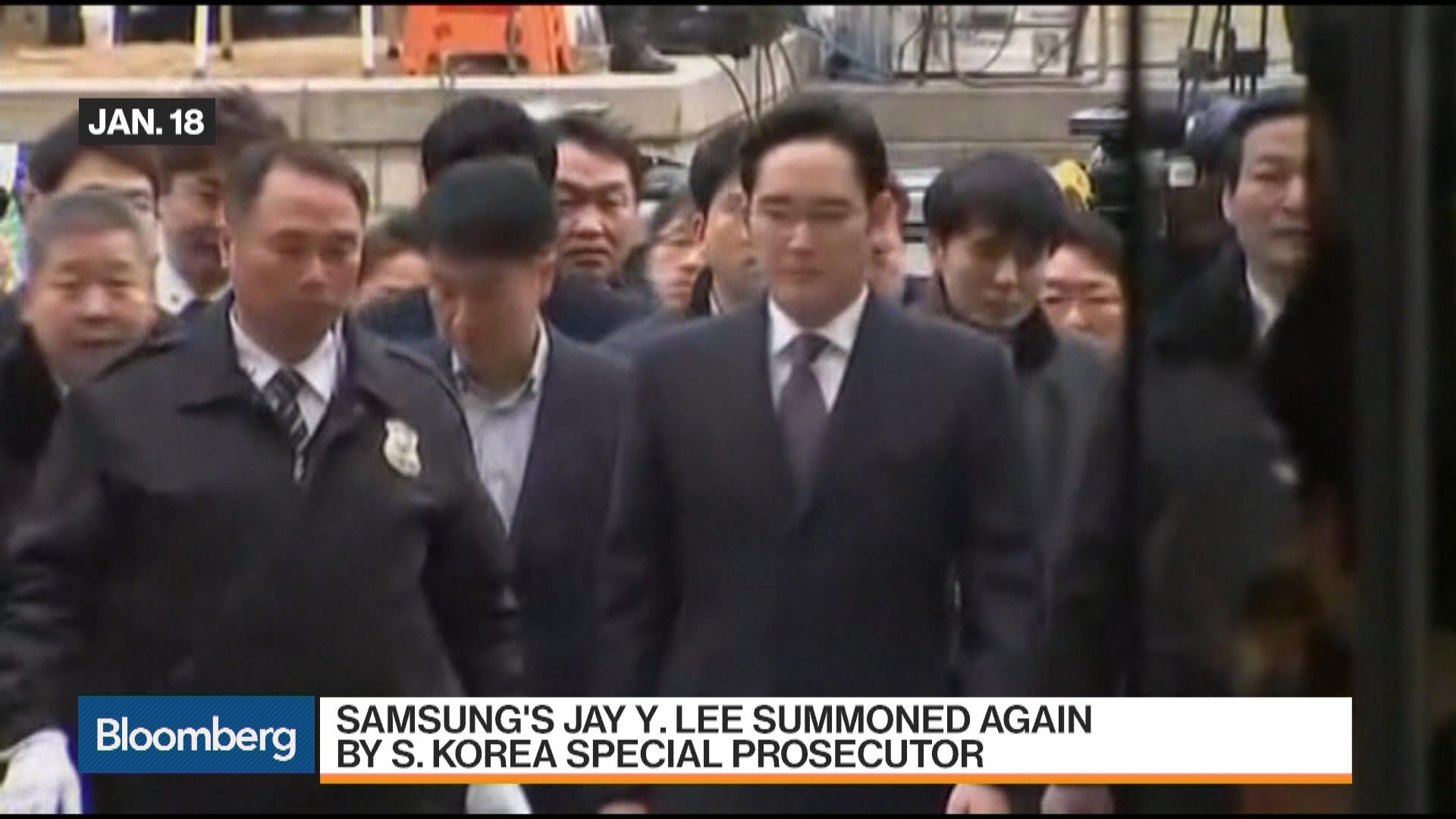 Jay Y. Lee, the de facto head of the Samsung Group, has returned home after being questioned for the second time over influence-peddling allegations, as a special prosecutor considers seeking a new arrest warrant.
A decision on a new warrant may come as soon as Tuesday or Wednesday, Lee Kyu-chul, a spokesman for the special prosecutor, said in Seoul. Samsung's Lee was questioned for 15 hours and left the special prosecutor's office around 1 a.m. Tuesday without answering questions from reporters.
The 48-year-old vice chairman of Samsung Electronics Co. is accused of participating in payments that Samsung made to a close friend of South Korean President Park Geun-hye, allegedly in exchange for government support in the company's succession planning. Lee has denied wrongdoing and said Monday morning before questioning that he would "earnestly" speak to prosecutors. Park has already been impeached in the scandal.
Lee spent most of Monday at the investigator's office, along with two other executives. At his first appearance last month, Lee was held for 22 hours. The earlier warrant was rejected by a court and any new request would have to get judicial backing as well.
"In addition to bribery, embezzlement and perjury, more charges will likely be added," said Hong Jung-seok, another spokesman for the special prosecutor's office. The prosecutors didn't elaborate on the new allegations during a briefing today.
A total of five Samsung executives including Lee have been investigated in relation to the scandal and any action on them will be determined when the decision on the heir apparent is made, the special prosecutor said.
A prolonged investigation into the latest political scandal surrounding Park and the country's large business groups could potentially affect succession plans at Samsung, with some major management plans already being delayed. Samsung shares fell 1 percent Seoul Tuesday.
Before it's here, it's on the Bloomberg Terminal.
LEARN MORE