politics
Moscovici Says Frexit Would Be Suicide as Le Pen Gains Ground
By
Commissioner Moscovici speaks in interview with Bloomberg TV

New poll shows far-right candidate is gaining in support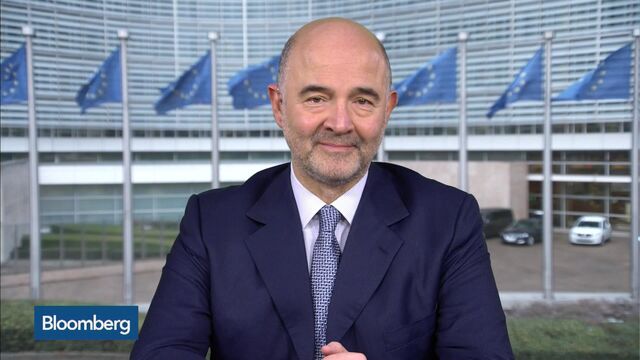 France's representative at the European Commission said leaving the euro would be suicide for his home country, as opinion polls showed far-right candidate Marine Le Pen, who advocates a referendum on the matter, gaining support ahead of the presidential elections.
"Madame Le Pen, the people in France are attached to the euro," Commissioner Pierre Moscovici said in an interview with Bloomberg TV's Guy Johnson on Monday. "They know that getting out would be a tragedy and a suicide."

According to an Opinionway poll released Monday, support for Le Pen in the first round of French presidential elections scheduled for April 23 has increased by one point to 26 percent, while independent candidate Emmanuel Macron is vying for the runner-up place with conservative Francois Fillon. While most polls indicate Le Pen is likely to win the most votes in the first round, they also project that she would lose the run-off two weeks later by at least 12 percentage points.
"France leaving the euro area would be a tragedy for the euro-zone and a catastrophe for France," Moscovici told reporters in Brussels on Monday. As for France leaving the EU, that could bring an end to the European project, the Commissioner said.
Le Pen has been riding the wave of anti-immigration sentiment, which catapulted the likes of Donald Trump to power, to challenge established French parties. She also questions the country's commitment to the single currency.
While the French economy is slowly recovering after prolonged stagnation, "the biggest risk remains politics -- the forecasts are conditioned on Marine Le Pen losing the presidential election," according to Bloomberg Intelligence analyst Maxime Sbaihi.
Before it's here, it's on the Bloomberg Terminal.
LEARN MORE