Le Pen Lures French Farmers Angered by Worst Crisis in Decades
by
Post office, tobacco shop, school all close in Breton village

EU farm aid no longer offsets slump from EU's Russia sanctions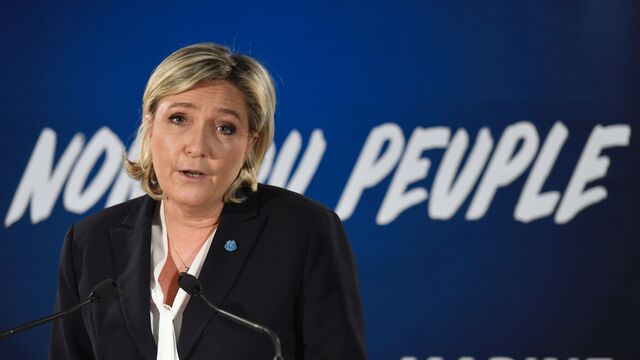 Every time French farmer Nicolas Menier looks at his black-and-white milk cows, he's reminded that he loses money on each one. That's why he sent 14 of his 60 Prim'Holsteins to the slaughterhouse in the past year.
It didn't net him much: Beef prices are falling too. So are grains. Menier's small corner of Brittany is a microcosm of French farming's deepest crisis since World War II, and that could have an impact on April's presidential election.
He blames his woes on politicians from establishment parties, saying they haven't protected farmers from falling prices and international competition. He plans to vote for the National Front's Marine Le Pen, whom he calls the only candidate who understands farmers and whose threats to pull France out of the European Union could bring him relief.

"The left and the right have made promises and didn't live up to them," the 38-year-old third-generation farmer says, his boots deep in mud at his cow shed in the town of La Trinite-Porhoet. "Let's give her a try."
Farmers and rural voters could hold the key to the election at a time when a resurgent Le Pen is leading in national polls. As her National Front gained ground in the past decade, one region --- Brittany -- and one profession -- farmers -- were impervious to its anti-immigration, anti-European Union message. They were enjoying the fruits of Breton exports of milk, pork, and vegetables all over Europe and beyond. 
Now, Le Pen is expected to make major gains in what is called "la France profonde" -- deep France -- as farmers, their suppliers and rural voters incensed by the loss of public services are seduced by her claims that imports and the European Union are responsible. Even though France remains the biggest recipient of EU farm aid, other policies from the bloc-- sanctions on Russia, reforms of quota programs -- have whipsawed the farm sector. Bad weather didn't help.
Read more on the French election: QuickTake
"Farmers have traditionally voted the establishment right, but they are increasingly tempted by the National Front," said Jerome Fourquet, a director at pollster Ifop. "It will be one of the key confrontations of the election."
Farmers in the EU's largest agricultural producer account for 8 percent of voters when their families and retirees are included, said Fourquet. The wider rural world totals about 20 percent. The percentage is similar to that in the U.S., where rural communities were one of the key demographics that drove Donald Trump's victory. 

The effects are everywhere in Menier's village of Trinite-Porhoet, population 5,400. One of the two schools closed last year. The post office is now just a desk open a few hours a day in its former building, which now also houses other government services. As of last year, the town hall no longer processes identity documents, forcing inhabitants to go to Mauron, 20 kilometers (12 miles) away. And the last tobacco shop just closed, so the nearest cigarettes and lottery tickets are 6 kilometers down the road. 
The closest hospital is half an hour away, in Ploermel, but its maternity ward may close and move to Vannes, an hour's drive. Menier said he used to leave his doors unlocked, but recently there's been a raft of fuel and farm-equipment thefts.
Farm income fell on average 15 percent in 2016, the agriculture ministry says, back to its levels of 2013. The total value of French agricultural production fell 7 percent to 69.2 billion euros ($74.3 billion) last year and the number of livestock-farm failures hit a record.

"It's the worst year since the end of the war," said Claire Quiblier, head of economic studies at the Brittany branch of the FNSEA, France's largest farmers' union. "We've never seen so many sectors in crisis at once."
The problems facing farmers are often the direct result of EU decisions. Milk prices paid to farmers fell about 20 percent in 2016 because output soared across Europe after production quotas were phased out in 2015. Pork and chicken prices collapsed after EU sanctions ended exports to Russia. Beef prices fell as unprofitable milk cows were sent to slaughterhouses.

The farming crisis is particularly felt in Brittany, France's leading agricultural region, where 40 percent of jobs are agriculture-related. The National Front took 18.2 percent in Brittany in the 2015 regional elections. While that's below the 27.7 percent the Front took nationally, it's above the 13.2 percent that Le Pen won in Brittany in the 2012 presidential election.
"Brittany used to be linked to the traditional center-right, but it's a region in flux where Le Pen is making inroads," said Joel Gombin, a politics professor at the University of Picardy and an expert on the National Front.
Nationally, polls show Le Pen would take the top spot in the April 23 first round of voting but lose the May 7 runoff against whomever she faces. Most French -- for the moment -- still reject her anti-EU views. Le Pen's platform calls for replacing the EU's Common Agricultural Policy with a national system of quotas and subsidies, and limiting imports -- now impossible under the EU's single market.
"The FN proposals are rubbish," said Thierry Coue, a Breton pig farmer in the village of Treal who raises 400 sows. "We can't shut ourselves off. We export too." But he said he understands the confusion many farmers feel. "Farmers feel so lost, there will inevitably a splintering-up of votes."
Menier, the milk farmer, blames the end of production quotas for plunging prices. And he said the EU's help for farmers -- even though France gets more aid than any other country -- is overrated. He receives a 20,000-euro subsidy from the bloc each year, far below his expenses: 50,000 euros to feed his cows, 35,000 euros for fertilizer and other treatments for his wheat and barley, 10,000 euros for seeds and 25,000 euros to finance his tractor. He's had to take out a loan to keep his farm going.
Not Swimming
"City people think we're swimming in aid, but it's not the the case," he said. "And there are times it's late because they say they are running low, but when it comes to migrants, they find money."
France's presidential candidates will have a chance to make their pitches to farmers later this month at the annual "Salon de l'Agriculture," an annual farm show that attracts more than 600,000 visitors a year. French media delight in showing any faux-pas as politicians pat cows and eat pate. Former President Jacques Chirac was in his element at the fair, guzzling beer with farmers, while the more urbane Nicolas Sarkozy never looked at ease and was once caught on video insulting a man who refused to shake his hand.
Read more about election scandals: QuickTake
Center-right candidate Francois Fillon of The Republicans, whose campaign is ensnared in a graft scandal, talks a lot about his rural roots but his agricultural platform mostly involves easing rules and taxes for the economy as a whole. Socialist candidate Benoit Hamon's platform doesn't mention agriculture so far. Independent Emmanuel Macron's agricultural policies focus on helping farmers transition to organic production and install power generation using farm waste.
"That's great, but it's a bit of an urban fantasy about what farmers should be like," said Frank Guehennec, a 47-year-old dairy farmer with 140 cows in the Morbihan region of Brittany, speaking about Macron's proposals. "There's a big risk of a major protest vote in the next election. There's a lot of support for the Front in the rural world."
Before it's here, it's on the Bloomberg Terminal.
LEARN MORE