Billionaire Co-Founder Calls Off Battle With Infosys' Board
By
Narayana Murthy says he will 'stop' now he's made his point

Calls current chairman a man of the 'highest integrity'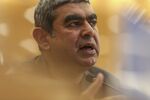 Billionaire Narayana Murthy is calling off his fight with the board of Infosys Ltd., saying he's confident the IT giant he co-founded will deal with the concerns raised about corporate governance.
The conciliatory comments came after an intense confrontation that pitted the board, Chairman R. Seshasayee and Chief Executive Officer Vishal Sikka against a clutch of high-profile co-founders led by Murthy. Their apprehensions about management of Asia's second-largest IT services company emerged last week, and included concerns over a spike in the CEO's compensation and large severance packages for two departing executives.

The criticism from Murthy and fellow billionaires Nandan Nilekani and Kris Gopalakrishnan burgeoned into a public confrontation over governance at Infosys, which works for many of the world's biggest corporations, including Goldman Sachs Group Inc. and Toshiba Corp. At one point, Murthy called for a board shuffle. On Monday, the entrepreneur softened his tone, calling Seshasayee a man of "highest integrity."
"Let me stop. I have made a point, paying such large sums of money is confusing. Now they have to sort it out," Murthy said in an interview. "I felt that I don't want it to snowball. I don't have the time. Neither should the board and the management be spending time on it."
On Friday, an Infosys director said the company had appointed a law firm to handle all communications with Murthy and the other co-founders, stressing the need for transparency in dealings. But Murthy said Monday it was time for him to call a truce. 
Infosys' shares were up 1.3 percent at 1:06 p.m. in Mumbai, outperforming a slight fall on the benchmark Sensex. A cease-fire allows management to focus on addressing that business-model disruption and deal with the changing U.S. regulatory environment, said Ajay Bagga, executive chairman at OPC Asset Solutions Pvt. 
"Anything other than these is a needless distraction that consumes valuable bandwidth and resources," Bagga said.
The tussle threatened to distract executives and hurt the brand image of a company grappling with slowing growth, fast-paced technological changes, an unfavorable outsourcing climate and potentially damaging moves on U.S. immigration. President Donald Trump could throttle the flow of H-1B visas that are key to serving American customers.
"The company and sector is at a critical point with all the external challenges," said Vikas Gupta, chief investment strategist at OmniScience Capital. "The founders can have a different point of view than the current management but if they have given the current management an objective they have to let them drive it their way and not impose old-school thoughts, whether right or not."
Sikka is pushing Infosys deeper into automation and artificial intelligence as clients tighten spending in an uncertain environment and begin to shift IT into the cloud. The chief executive later told an investor conference in Mumbai that his relationship with the company co-founders "is wonderful."
"I would like to assure every single shareholder that corporate governance and values were, are and will be the core foundation of this company," Sikka said in a text message sent by Infosys. "I will not let that standard slip even an iota under my watch."
Infosys has scheduled a media conference for Monday evening in Mumbai. Asked if the row was over, Murthy said, "Yes, I think so. The reality is that these things happen. It is a good idea not to unnecessarily muddy it up further."
— With assistance by Santanu Chakraborty
Before it's here, it's on the Bloomberg Terminal.
LEARN MORE