Here's Why the Swedish Central Bank Is Done With Adding Stimulus
by
All 26 analysts surveyed see bank keeping repo rate at -0.5%

Inflation has risen to near target and economy is surging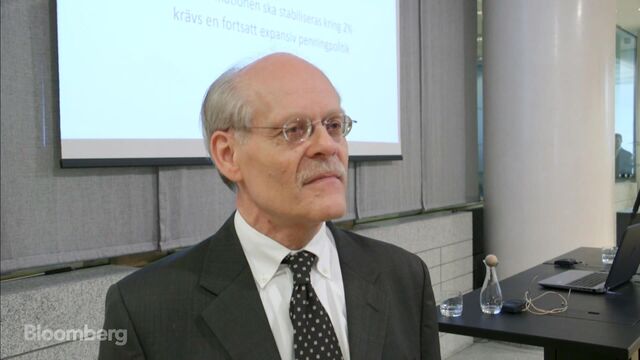 Forget interest rate cuts. Forget additional bond purchases.
That's the message from all analysts surveyed by Bloomberg ahead of this week's policy meeting by the Swedish central bank. Looking beyond the Wednesday announcement, most analysts say the Riksbank's next move will be to raise rates from their record low of minus 0.5 percent and continue to phase out its bond-buying program.
Here's why:
Inflation has risen steadily over the last year and is now close to the bank's 2 percent target on the back of a weakening currency and rising energy prices.

The Riksbank's aggressive stimulus and threats of currency interventions have successfully turned around inflation expectations. Still, the central bank reiterated at its December meeting that it doesn't expect rates to turn positive until 2019.

Meanwhile, optimism among households and companies has been fueled by falling unemployment and an economic growth rate of 3.5 percent in the first nine months of 2016. An index measuring consumer and business confidence rose to its highest level in more than five years in December.

The expansionary policy isn't devoid of side-effects. House prices and household debt have shot through the roof, sparking concern among board members and warnings from the country's Financial Supervisory Authority.

The Riksbank also risks becoming a victim of its own success. Speculation that it's close to ending its stimulus program has strengthened the krona, in turn threatening its inflation target. That's why the bank will probably continue to talk tough next week, said Andreas Wallstrom, chief analyst at Nordea Bank in Stockholm.

Still, mounting concern about the negative effects of the current monetary policy on bond market liquidity and household debt, as well as the need to keep some ammunition dry, means the bar for more action is pretty high.
Before it's here, it's on the Bloomberg Terminal.
LEARN MORE