Emmanuel Who? French Front-Runner Still to Convince in Provinces
By and
Polls show Macron's vote is less solid than mainstream rivals

Macron's campaign visits rural France to broaden his base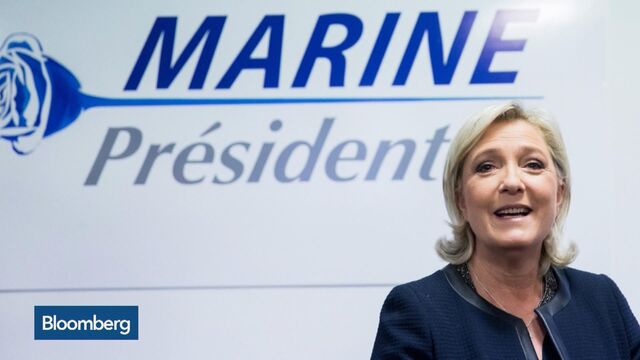 The news that Emmanuel Macron is supposed to be the favorite for the French election has not yet reached the Ardennes.
Macron's technocratic polish doesn't convince quite so readily in the northeastern region of farms and forests as it does in Paris, where everyone from corporate bosses to tech geeks knows him well and many are rooting for a candidate they see as one of their own.

"Monsieur Macron?" asked Christiane Devie, a 58-year-old pharmacist's assistant in the Ardennes village of Liart, population 547. "I don't know much about him -- I don't know what he wants, I don't know what he does. I do know the other candidates though."
The challenge for the 39-year-old former economy minister is to find enough votes in places like Liart to bolster his support from the professionals in France's major cities as he seeks to complete the leap from presidential adviser to president in less than three years.
Although he's ahead in the polls and favorite with the bookmakers, retaining his lead won't be easy.

The 2017 race has already seen one ex-president drop out, while the incumbent Francois Hollande opted not to run and former Prime Minister Alain Juppe was rated France's most popular politician for over a year before he was rejected by his own party in November's primary.
Party Machine
What's more, Macron has none of the safety apparatus that accompanies more conventional front-runners. He abandoned Hollande's Socialist government last year to run as an independent, so there's no party machine to shield him from the rough and tumble of the campaign and there's no traditional base of support.
Though about 21 percent of voters are currently planning to back Macron in the first round of balloting, they are less loyal than the supporters of any other major candidate, Ifop polling shows. Only 48 percent say they're sure of their choice, compared with 81 percent for National Front leader Marine Le Pen and 65 percent for the Republican Francois Fillon.
"Macron's support has bubbled up from nothing, it didn't exist four months ago and that is precisely why it's fragile," Ifop's Jerome Fourquet said in an interview. "His rise has been spectacular. But his support is weak."
Fillon himself was an outsider back in November in the run-up to the Republican primary, the third candidate in a two-horse race between Juppe and former President Nicolas Sarkozy. After Republican supporters opted for Fillon's more hardline brand of reform, their nominee led the polls briefly before becoming embroiled in a financial scandal in late January.
Read more: an explainer on the Fillon affair
While France's 2017 election has been more fluid than most, such dramatic movements aren't unprecedented. In January 1995, Prime Minister Edouard Balladur was the favorite on 30 percent in the polls and Jacques Chirac had barely half that. By May, Chirac was president and Balladur's days in office were behind him.
"A lot can happen before the first round," said Antonio Barroso, a political analyst at Teneo Intelligence in London, wrote in a Feb. 1 note to clients.
Part of Macron's challenge is to convince ordinary voters that he can relate to their concerns. Traveling to visit a farming community in the Loire Valley on Feb. 10, he tweeted "en route to discover the project farms of the future."
Holding a Pig
While Macron has the support of 26 percent of executives, professionals, and middle managers, only 9 percent of workers back him, Ifop says. Among people with only secondary education, just 15 percent choose Macron but 29 percent of those with more than two years of university education do.
"I wonder if he's really someone who can be a president," Devie said on a freezing February afternoon as she packaged up a prescription in Liart, where average incomes are almost 20 percent below the national average and unemployment is more than 3 percentage points higher.

Still, Macron is putting in the effort and making some progress. In January he spent two days in Brittany -- visiting farms and fisherman and even being photographed holding a pig. More than 2,000 people turned up to hear him speak in Quimper. Another thousand gathered to hear him in Nevers, a small city in central France.
When he spoke in the wealthy southern city of Lyon on Feb. 4, Louisa, a 72-year-old retiree, traveled from the nearby village of Rillieux-la-Pape to listen. She said she'd always voted for the Socialists in the past but she was swayed by Macron's progressive case for renewing France.
"I haven't decided yet," she said. "But this time he could be the one."
— With assistance by Anne Swardson
Before it's here, it's on the Bloomberg Terminal.
LEARN MORE