Brexit Bulletin: The Merkel Mistake
May risks repeating her predecessor's misreading of Merkel.
By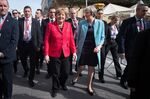 Sign up to receive the Brexit Bulletin in your inbox, and follow @Brexit on Twitter.
A prestigious address before Parliament, box sets of the British crime drama "Midsomer Murders" and birthday party invitations.
All were handed to German Chancellor Angela Merkel. Yet, when then-Prime Minister David Cameron sought her assistance in landing a decent deal to reform the European Union, he was rebuffed.
As Bloomberg's Svenja O'Donnell and Birgit Jennen report on Monday, there are signs Prime Minister Theresa May is making the same mistake, as two of her advisers say the British are confident that Merkel can be persuaded to help the U.K. win control of immigration, yet still enjoy easy trade with the continent.
British diplomats in Berlin are not so sure as they warn that Merkel means what she says in public about prioritizing EU stability over safeguarding trade with the U.K.
"There is still some delusion in London about the role Germany and Merkel will play in Brexit negotiations," said Holger Schmieding, chief economist at Berenberg Bank. "Merkel's political interest in keeping the EU-27 together outweighs any interest the German car industry or any other industry has in the British market. Political interests take absolute precedence."
Remember Grexit?
Before there was Brexit, there was talk of Grexit.
Now with Greece poised to miss a deadline that would conclude a review of its latest bailout, the government of Alexis Tsipras risks reprising the antagonistic relationship with the country's creditors that nearly knocked the nation out of the single currency in 2015.
Over the weekend, Prime Minister Tsipras lashed out again at the International Monetary Fund, leaving Athens with about a week to reconcile its differences over fiscal policy.

So what does it mean for Brexit? The bad news for May is the trouble in the south could distract EU leaders, leaving her with even less time to negotiate a deal. The good news for her is that it gives her something to point to as a reason to justify the split from the EU.
Separately, European Commission President Jean-Claude Juncker told Deutschlandfunk that he is worried Britain will successfully divide the other 27 members of the EU "without great effort" by promising "country A this and country B that and country C something else." He also said he will not seek a second term in 2019.
Lords Won't Block
The unelected upper house of Britain's Parliament won't try to halt May's plan to trigger Brexit when it debates a draft law next week, the leader of the main opposition party in the chamber said.
"It's inconceivable that an unelected house will thwart the will of the House of Commons and a referendum on this issue," Angela Smith, the leader of the Labour Party in the House of Lords, told BBC Television's "Sunday Politics" show. "The House of Lords has no intention of trying to sabotage that."
That will calm any nerves in the government that the Lords could prove troublesome to the Article 50 law, given Conservative Party peers are outnumbered in the chamber. Many have noted the legitimacy of the chamber would be thrown into question if it did play a wrecking role.
Back in the House of Commons, pro-Brexit members of May's party are increasing pressure on Speaker John Bercow to quit after he disclosed he voted to remain in the EU. As the independent chairman of the lower chamber, he is supposed to remain impartial.
Brexit Bullets
The European Commission revised up its estimate of U.K. economic growth for 2017, from 1 percent to 1.5 percent.
Just 35 percent of voters support leaving EU without an agreement, ICM poll in the Guardian showed
May is annoyed by talk she has been won over by hardline Brexit campaigners, Daily Mail said
Irish peace is at risk because of Brexit, former leader Bertie Ahern told the Observer
European Budget Commissioner Günther Oettinger said Brexit could cost German 1 billion euros, according to Bild
35 percent of small businesses said they have been negatively affected by Brexit, accountants Moore Stephens said
European Parliament Brexit point person Guy Verhofstadt told the Guardian that the U.K. will be subject to the European Court of Justice even after leaving the EU if transitional deals are put in place
German Finance Minister Wolfgang Schaeuble wants to avoid a race to the bottom on taxes with the U.K. and U.S., Spiegel reported
More than a quarter of employers suspect EU staff will quit in 2017, according to Chartered Institute of Personnel and Development survey in 2017 in Financial Times
Migration cuts could push the state pension age up, says the Daily Telegraph
On the Markets
Financial markets are still betting the next shift in U.K. interest rates is up. Eighty-seven percent of economists surveyed by Bloomberg said the next move by the Bank of England will be an increase in rates, a stronger consensus than a month ago.

And Finally…
That sound you hear is the tune of Brexit-induced price rises, now playing in sync in every room in your house.
Wireless speaker-maker Sonos said it would raise prices on Feb. 23, increasing the cost of its music speakers, wireless receivers and home-theater accessories by as much as 25%.
It blamed the increase on the weakest pound in three decades, which has made imports more expensive. "Our prices are defined regionally," Sonos said on its website. "In the U.K., this includes local taxation and import duties, but we pay for everything we make in U.S. dollars."
"These increases aren't something we take lightly," the company wrote in an email to customers. "But there are times when changing circumstances make them necessary."

For more on Brexit follow Bloomberg on Twitter, Facebook and Instagram, and see our full coverage at Bloomberg.com