Bank Risk Makes Europe a Return-Free Value Trap, McCaughan Says
Katherine Chiglinsky and Lisa Du
Principal's McCaughan recommends bets on commercial property

He also advocates investing in small, mid-cap U.S. companies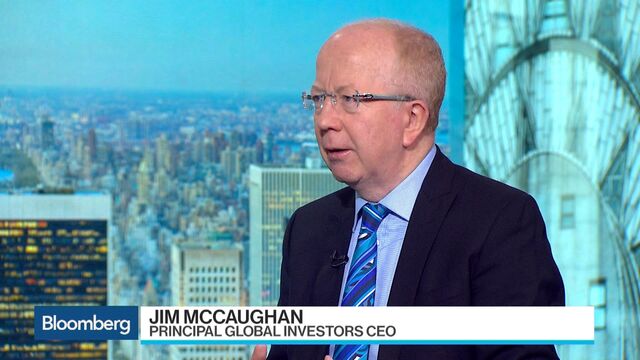 Jim McCaughan, who oversees more than $390 billion at Principal Global Investors, cautioned against betting on European stocks, even after they trailed U.S. equities for years.
"I see this as a value trap," McCaughan said Monday in an interview on Bloomberg Television. "I don't see where the growth is coming from in Europe, and I see lots of risk. You don't really have a risk-free return. You have a return-free risk."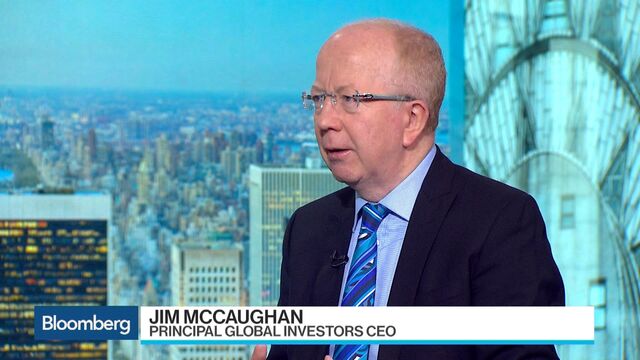 A weak banking system on the Continent is likely to constrain growth, McCaughan said later in a Bloomberg Radio interview, citing Germany and Italy without identifying individual lenders. Elections in France, Germany and the Netherlands might also be disruptive for the European Union, which could hinder commerce, he said. McCaughan said investors also need to account for dangers in the U.S., such as the possibility of a trade war under President Donald Trump.
Still, "I'd rather have the U.S. in the good case," he said. And, "I'd rather have the U.S. in the bad case."
He said lower tax rates in the U.S. will make stocks more attractive. Asked whether the market had already accounted for that possibility, with the S&P 500 Index rallying more than 8 percent since Trump's surprise victory in November, McCaughan recommended looking beyond stocks of the largest companies, opting instead for small and mid-cap equities. Ten-year Treasuries are also unattractive, with the yield at less than 2.5 percent, he said.
Commercial Real Estate
One way to bet on the U.S. would be to invest in commercial real estate. Again, there are risks: some retail properties could suffer as consumers shift to shopping online, and the prices of multifamily residences in major cities have already rallied substantially, McCaughan said.
"Having said that, offices, distribution properties, industrial -- those are really pretty interesting right now and have very attractive yields."
McCaughan is the chief executive officer of PGI, which is a unit of Des Moines, Iowa-based insurer Principal Financial Group Inc. His operation consists of boutique investment managers that pursue strategies such as emerging markets, high-yield debt and real estate.
He said that with so much money pouring into indexed strategies to invest in the largest companies, active money managers need to look for "more interesting, less efficient" areas of financial markets.
Before it's here, it's on the Bloomberg Terminal.
LEARN MORE