'Burnt Out Tank' Becomes Symbol of Changed Irish Bank Landscape
By
Irish central bank spends 140 million euros on new offices

Building had been meant for bankrupt Anglo Irish Bank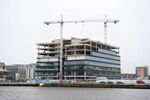 A gleaming seven-story tower on Dublin's Liffey riverfront, once a symbol of the nation's economic crash and likened to a burnt out tank on the road to Kuwait, is set to be the Irish central bank's new home.
Earmarked as the headquarters for Anglo Irish Bank Corp. before it collapsed, the building has become emblematic of a new landscape, dominated by regulators trying to shake off Ireland's reputation as the Wild West of finance. The central bank, which spent about 140 million euros ($148 million) completing the half-finished shell, is moving about 1,500 of its officials into the building by the end of next month.
The building, abandoned after Anglo Irish's failure pushed the nation to the brink of bankruptcy, traces Ireland's journey over the past decade. The skeleton ended up under the control of the state's so-called bad bank, created to purge financial institutions of toxic property loans, and became a staple shot for international television crews in Dublin to chart the demise of the Celtic Tiger.
"Everybody who comes to Dublin to see us wants to see the Anglo Irish Bank building; they ask the taxis to bring them around," Brendan McDonagh, chief executive of the bad bank, said in 2011, while a second official in 2013 described it as a "burnt-out tank on the road" to Kuwait to characterize the brutality of the country's financial crisis.
Porcelain Tiles
In 2013, struggling to find room for the legions of regulators hired after the crash, the central bank paid about 7 million euros for the shell. Now, after a 21-month build, it's close to being finished.
On a tour of the building, fitted out with porcelain tiles, Irish limestone and an austerely neutral color, officials were keen to downplay any hint of luxury. Local media had criticized the bronze-colored, energy-saving exterior surfaces as an inappropriate show of bling.
For all that, the ghosts of the past are never too far away.
The cafes and restaurants in the building don't accept cash, and no money is held in the vaults. Just like Anglo Irish, one reporter quipped on Friday.
"It's not a bank with no money," facilities director Paul Molumby replied. "It's a building with no money."
Before it's here, it's on the Bloomberg Terminal.
LEARN MORE