technology
South Korea Prosecutor Resummons Samsung Heir Jay Y. Lee
By
Move follows rejection of earlier warrant on lack of evidence

Billionaire heir apparent linked to Korean political scandal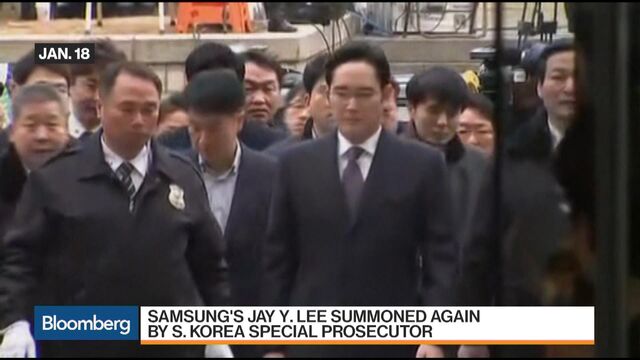 A special prosecutor is again questioning Samsung Group's Jay Y. Lee over allegations including bribery and embezzlement, potentially dealing another blow to South Korea's biggest business empire.
Lee, the de facto head of the Samsung Group and vice chairman of Samsung Electronics Co., was called in for questioning Monday morning, along with two other executives including Samsung Electronics President Park Sang-jin. Samsung shares fell 1 percent to 1,900,000 won in Seoul.
Samsung's heir-apparent said he would "earnestly" speak to prosecutors as he was led through a throng of reporters to the special prosecutor's office in Seoul Monday morning.
Billionaire Lee, 48, is accused of participating in payments that Samsung made to a close friend of South Korean President Park Geun-hye in exchange for government support in the company's succession planning. A Seoul court rejected prosecutors' requests to arrest Lee on Jan. 19, saying there wasn't enough evidence to keep Lee in jail based on the facts presented about alleged payments and other charges.
Prosecutors will decide whether to again seek an arrest warrant for Lee before the end of this week, after collecting additional information from Monday's probe, the prosecution spokesman said. A prolonged investigation into the latest political scandal surrounding Park and the country's large business groups could potentially derail succession plans at Samsung, with some major management plans already being delayed.
Samsung Group, which overseas nearly 60 affiliate companies from electronics to insurance and pharmaceuticals, has consistently denied allegations that it provided financial aid to Park confidant Choi Soon-sil in return for political favors including the government's support for the merger between Cheil Industries Inc. and Samsung C&T Corp.
(
Updates with Lee being questioned.
)
Before it's here, it's on the Bloomberg Terminal.
LEARN MORE