Billionaire Richard Li's PCCW Plans to Raise $1 Billion in Sale of HKT Trust and HKT Ltd.
by
Disposal is billionaire's second sale in less than a week

PCCW eyeing media investments with proceeds from the sale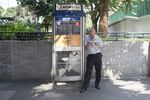 Billionaire Richard Li's PCCW Ltd. plans to sell a HK$8.53 billion ($1.1 billion) stake in telecommunications unit HKT Trust & HKT Ltd., amassing cash as the Hong Kong tycoon shifts into media investments. Shares of both companies fell.
PCCW will dispose of shares of Hong Kong's largest phone company for HK$10.15 apiece. The sale, being arranged by Goldman Sachs Group Inc., will cut PCCW's holding to 52 percent from 63 percent. HKT dropped 7.4 percent to close at HK$10.26 on the local exchange, valuing the company at $10 billion.
It's the second sale in less than a week for the younger son of Hong Kong's richest man, who is seeking to build on PCCW's media assets that include pay television, music streaming and movie distribution. PCCW relied on telecom services for about 82 percent of revenue last year. Selling down its HKT stake will mean it's entitled to less dividends from the company as it shifts businesses with potential for faster growth like television and movie content.
"PCCW will repay its debts and continue to invest in its core media and solutions businesses," Morgan Stanley analysts Gary Yu, Yang Lsiu and Ansel Lin wrote in a note. The company is also going to be more active in mergers and acquisitions in its media and solutions businesses, they wrote.

HKT's dividend contribution to PCCW will be reduced by more than 17 percent to HK$2.4 billion in 2017 from HK$2.9 billion, the Morgan Stanley analysts estimate.
PCCW fell 6 percent to HK$4.57, paring the stock's gain this year to about 9 percent.
PCCW plans to use the proceeds for debt repayments and other general purposes including investments in media and solutions businesses as well as "new strategic opportunities." In a statement, Moody's Investors Service said the stake sale won't affect PCCW's Baa2 rating, which is the second-lowest investment-grade ranking.
For a Gadfly column on the HKT share sale, click here
Last year, PCCW took part in an investment round in STX Entertainment, the distributor of the feature films "Bad Moms" and "The Gift."
Last week, Li agreed to sell a U.K. business to his father's CK Hutchison Holdings Ltd. for 300 million pounds ($375 million). PCCW expects to post a gain of about HK$1.3 billion from that deal.
Before it's here, it's on the Bloomberg Terminal.
LEARN MORE