Japan's GDP Highlights the Export Risks That Abe Hopes to Curb
By
The nation's economy expanded for a fourth straight quarter

Sales abroad were the key while consumption at home was flat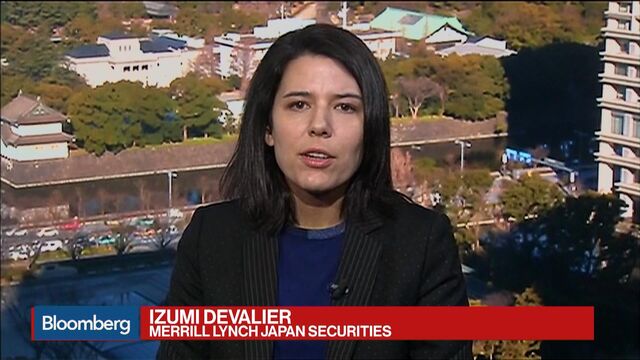 The strength in exports that fueled a fourth straight quarter of economic growth in Japan underscores just how important it is for Prime Minister Shinzo Abe to ease trade tensions with the Trump administration.
Net shipments abroad added 0.2 percentage point to gross domestic product in the three months through December, while consumption in Japan was flat as minimal increases in wages constrain consumer spending.
Data for 2016 as a whole show that overseas demand now accounts for about half of the expansion in gross domestic product, leaving the economy particularly exposed to any new trade barriers from the U.S., which is Japan's biggest export market after China.

"A risk for Japan's economy is that too much dependence on exports could trigger criticism from the U.S., which is paying so much attention to trade between the two nations," said Takashi Shiono, an economist at Credit Suisse Group AG. "Abe may have to show that the government is also trying to shore up the economy by implementing even more fiscal policy."
The prime minister's two-day visit to the U.S., which showcased chemistry between Abe and President Donald Trump, may have staved off a protectionist backlash for now. Having chided Japan on the campaign trail and in office for its trade and currency policies, Trump agreed to assign further economic dialogue between the two nations to his vice president.
Read more: U.S.-Japan delegates trade issue to deputies.
"This is really an export-driven recovery we're talking about," Izumi Devalier, chief economist at Merrill Lynch Japan Securities, said on Bloomberg television. "Private consumption has been pretty weak still, and unless we get private consumption fired up, it's hard to see growth accelerating very strongly from here."
Japan had the second-largest trade surplus with the U.S. after China last year, with the bulk coming from auto exports. Trump called this "unfair" when he withdrew the U.S. from the 12-nation Trans-Pacific Partnership.
— With assistance by Toru Fujioka, Yoshiaki Nohara, Tomoko Sato, and James Mayger
Before it's here, it's on the Bloomberg Terminal.
LEARN MORE