Trump Team Leery of Having Too Many 'Goldman Guys' in Top Posts
By and
Possible Treasury No. 2 Donovan may be tapped for lesser role

President used anti-Wall Street imagery during campaign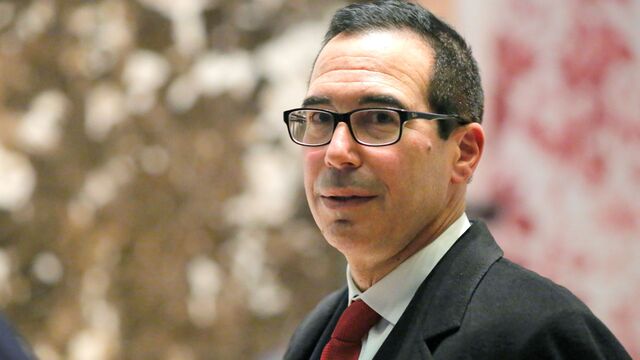 Goldman Sachs Group Inc. banker Jim Donovan is under consideration for the No. 2 job at the Treasury Department, said a person familiar with the deliberations, but he's got one big thing working against him.
Too many "Goldman guys" already have high-up positions in the Trump administration, the person said, and that could knock Donovan down to one of the undersecretary positions -- possibly undersecretary of the Treasury for domestic finance.
The presence of several former Goldman officials at the highest reaches of the administration runs counter to the president's regular attacks on Wall Street firms during the campaign. "Donald Trump's Argument for America," a two-minute advertisement that ran in prime-time days before the election, featured Goldman Chief Executive Officer Lloyd Blankfein in an segment about corporate chieftains pocketing the wealth of American workers.
The Goldman hires have also given Democrats fodder for attacks on Trump for stocking his government with officials from the investment bank.
Now, the White House seems sensitive to the issue and is taking it into consideration as it attempts to fill remaining top posts.
Heavy Presence
Besides Steven Mnuchin, Trump's pick for Treasury Secretary, former Goldman officials working for the new administration include former president Gary Cohn, now director of the National Economic Council; Stephen Bannon, the chief White House strategist; and Dina Powell, formerly the bank's head of philanthropic investment, who's an assistant to the president and senior counselor for economic initiatives.
Donovan, whose time at Goldman overlapped with Mnuchin, most recently was a managing director at the bank's private wealth management division and has been at Goldman since 1993. He would be subject to Senate confirmation.
Andrew Williams, a Goldman spokesman, declined to comment on the move or the firm's former employees in the administration.
At Treasury, Donovan would join the effort to execute the extensive economic policy agenda that the new administration has promised. Trump has vowed to cut regulations and taxes with the goal of unlocking economic growth. The Treasury Department will also be responsible for navigating economic diplomacy for a White House not shy about jawboning currencies.
A Senate confirmation vote for Mnuchin, most recently co-founder and chairman of hedge fund Dune Capital Management LP, is scheduled for Monday. Votes are expected to be cast along party lines, meaning the slim Republican majority all but secures his getting the job.
Donovan's name emerged in January as a front-runner for undersecretary of domestic finance, a key Treasury position that helps oversee the $13.8 trillion market for Treasuries.
Before it's here, it's on the Bloomberg Terminal.
LEARN MORE