Trump-Backing Australian Senator Plans to Stay in Parliament
by
Bernadi has drawn fire after quitting Turnbull's Liberal party

Rebel lawmaker says his party will be Senate 'cop on the beat'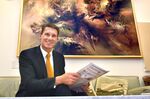 A Donald Trump-supporting conservative Australian lawmaker who quit Prime Minister Malcolm Turnbull's Liberal Party says he plans to stay in the senate and position his new party as a "principled alternative" to mainstream politics.
Senator Cory Bernardi said on Sunday he had no plans to exit the senate and wants his new Australian Conservatives party to act as a "cop on the beat" in the nation's upper house after exiting the Liberals just seven months on from his re-election for a six-year term.
"There are many conservative voters who are enthusiastic about having a credible and principled conservative alternative," he told Sky News.
Bernardi, 47, joins the ranks of politicians who are seeking to capitalize on voter frustration with mainstream politics which has seen support rise for minor parties and independents. The senator, who welcomed the election of Trump as president, flagged last year that he wanted to be a "catalyst for change" in Australia.
Bernardi said President Trump's executive order to ban citizens of seven mostly Muslim countries from entering the U.S. was not unprecedented, and that the broad agenda of the Republican party is "very much in favor" among American citizens.
He is supportive of Australian immigration policies that will more closely scrutinize the impact of migrants on the South-Pacific nation's economy. "There's a very strong case that says when you look at it on a per-capita income basis, we could halve our existing migration intake," he said.
Before it's here, it's on the Bloomberg Terminal.
LEARN MORE