Rajoy Cements Power in Spain as Podemos Bonds Break
by
Prime minister proved his staying power through electoral test

Competing visions of future cause rift for Podemos leadership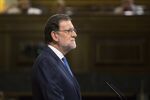 On the night of the European elections in 2014, two unknown activists in Madrid hugged each other in disbelief as the results rolled in showing that their street-protest movement had won five seats in the parliament and dealt a blow to the ruling People's Party.
With Spain still suffering from the effects of a five-year slump and the PP reeling from a wave of corruption scandals, that moment marked the beginning of an improbable journey for Pablo Iglesias and Inigo Errejon, which brought the political establishment to the brink.
Yet almost three years later, the friendship at the heart of the Podemos group has foundered and conservative Prime Minister Mariano Rajoy, 61, is looking stronger than at any point since winning his outright majority in 2011.
Rajoy will seal his comeback from economic crisis, financial scandal and a partial election defeat on Saturday when his party meets in Madrid to re-elect him leader, unchallenged. The dissent which swirled around him last year has fallen silent since he took office at the head of a minority government in October.
The party gathering will seek "to consolidate Mariano Rajoy's leadership even more," said the conference chairman Cristina Cifuentes, in an interview with state-owned broadcaster TVE on Feb. 9. Cifuentes, who heads the Madrid regional government, was touted as a possible replacement for Rajoy last year as party modernizers grew frustrated with his cautious style.
Separate Visions
Five miles (eight kilometers) across the capital, Podemos delegates are also meeting to vote on the rival visions for the party's future that Iglesias, 38, and 33-year-old Errejon are offering. The campaign has been dominated by sniping between the two factions, the resignation of key figures and hand-wringing over ideological rifts.
Errejon wants Podemos to adopt a more measured style to court mainstream voters. Iglesias envisions a more radical path for the party, tapping the energy of street protests that fueled its rise.
"We have made a lot of mistakes, " said Iglesias in an speech Saturday. "But today and tomorrow this assembly has to be an example of fraternity, unity and smartness."
It was ideology that brought them together at the political science faculty of Madrid's Complutense University, where Errejon attended classes taught by Iglesias. They sealed their friendship leading political demonstrations.
"Sometimes when you are used to walking with someone, your steps fall into sync and you walk at the same pace," Errejon said in the interview last year, when he explained the origins of their friendship. "For us, intellectually, it worked like that. Before you'd even finished a phrase, we knew what the other was going to say."
Iglesias became a mentor figure to Errejon, guiding him through his doctoral thesis on Bolivian politics, and they went on to become founding members of Podemos. A few nights after their 2014 breakthrough, the party leadership gathered in an apartment in Madrid's hipster neighborhood of Malasana, and Iglesias told the group that they were on the verge of something that would sweep away all their other plans, Errejon remembers.
"People said to us in the street -- to me, to Pablo, to the rest of us -- 'don't let us down,"' Errejon said in the interview last May. "'Don't let us down' has got a beautiful side to it, but it also carries a historic responsibility."
A few weeks after that interview it looked to Iglesias and Errejon for just an hour or two as if that promise might be fulfilled. After six months without a government, the exit polls for Spain's second election in less than a year showed Podemos vaulting over the Socialists to become the biggest party on the left and Rajoy's PP suffering additional losses.
But the polls were wrong.
The PP increased its number of seats, Podemos finished behind the Socialists and after four months of further wrangling, Rajoy took office for a second term.
Make Headlines
"It isn't our aim to make headlines -- there are already others that do that," said Cifuentes, the president of the Madrid regional government. "Let's see how it turns out for Podemos because that's an open civil war."
Rajoy's successful bid to stay in power proved his party could hold off the populist challenge of Podemos. As he basks in a glow of approbation from his People's Party, a string of elections is about to put the political establishment in other European countries to the test.
In the Netherlands, the far-right Freedom Party is on track to be the biggest group in the parliament when elections are held next month, according to an Ipsos poll released last week. Marine Le Pen's National Front is also the front-runner for a first round of elections in France in April.
Rajoy's success "shows that it's necessary to avoid an exaggerated and populist message," said Antonio Lopez-Isturiz, secretary general of the European People's Party, which groups conservative parties including Chancellor Angela Merkel's CDU. "In the end, it's not what people need."
Before it's here, it's on the Bloomberg Terminal.
LEARN MORE