Peru Says Fugitive Ex-President May Have Fled to U.S.
by
Court issued international detention order for Toledo Thursday

Former president may be trying to reach Israel: government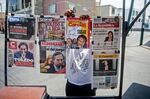 Peru's former President Alejandro Toledo may have fled to San Francisco from Paris after a judge ordered his arrest for allegedly taking bribes from Odebrecht SA, Peru's Justice Ministry said Friday.
The office of Peru's cabinet chief said it has asked U.S. authorities to detain Toledo and expel him after receiving a tip-off on his whereabouts. Toledo may be planning to reach Israel, according to a statement from the cabinet office.
Peru issued an international arrest warrant for Toledo after a court Thursday said he should be detained as a precautionary measure before standing trial. The attorney general's office accuses him of receiving $20 million from Odebrecht in exchange for awarding it a major highway contract. Toledo denies any wrongdoing and his lawyers have appealed the court's decision.
Peru's Congress withdrew Toledo's benefits, including a lifetime pension, insurance and support staff, newspaper Andina reported on Saturday.
Toledo was president of Peru from 2001 to 2006. He finished fourth in the 2011 election and was a candidate in the 2016 race, but withdrew before the vote.
According to Toledo's Facebook page, he traveled to Paris last month to speak at an event organized by the Organization of Economic Cooperation and Development. He was accepted as a visiting scholar by Stanford University in California from September 2016 to October 2017, according to a letter posted on his Facebook page.
Before it's here, it's on the Bloomberg Terminal.
LEARN MORE