Mike Ilitch, Pizza Mogul Owner of Detroit Tigers, Dies at 87
by and
Founded Little Caesars with his wife, Marian, in the 1950s

Family holding company had revenue of $3.4 billion in 2016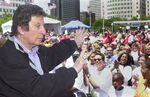 Mike Ilitch, a Detroit-based billionaire who used the fortune he built as the founder of Little Caesars Pizza to buy local sports teams and spur development in the financially strapped city, has died. He was 87.
Ilitch died in a Detroit hospital on Friday, according to a statement from his family's holding company. No cause was given.
Ilitch and his wife, Marian, opened their first carry-out pizza restaurant in a strip mall outside Detroit in the late 1950s. Marketing strategies such as two-for-one pizza deals helped propel closely held Little Caesars Enterprises Inc. to the nation's No. 3 pizza chain behind Domino's Pizza Inc. and industry leader Pizza Hut, a unit of Yum! Brands Inc. The Little Caesars chain included more than 4,250 locations in 2015, according to researcher Technomic.
"My father was a once-in-a-generation entrepreneur, visionary and leader, setting the tone for our organization and our family," Christopher Ilitch, president and chief executive officer of Ilitch Holdings Inc., said in the statement. The Ilitch family has a net worth of $5.6 billion, according to the Bloomberg Billionaires Index.
A Detroit native and restless entrepreneur, Mike Ilitch spent his pizza profits to buy local sports teams. He purchased the National Hockey League's Detroit Red Wings in 1982, then referred to as the Dead Wings for its poor performance. Under Ilitch, the team played in every postseason between 1990 and 2016, winning four Stanley Cup championships.
Buys Tigers
Ilitch spent about $85 million in 1992 to buy Major League Baseball's Detroit Tigers. If he could do for the Tigers what he did for the Red Wings, BusinessWeek wrote in 1992, "he'll put some life and cash back into a dispirited franchise badly in need of both." The team played in the World Series in 2006 and 2012, losing both times.
"I want to win the World Series," Ilitch said, according to a 2012 interview with USA Today. "But not for me. For our community. Baseball has such a tremendous effect on a city. It would bring so much joy. It would mean everything."
Committed to reviving Detroit, which in 2013 became the nation's largest bankrupt municipality, Ilitch and his wife formed Olympia Development of Michigan, a real-estate and development company. The unit purchased and restored the city's Fox Theatre, a 5,000-seat art deco site for music and film that was built in 1928 and had fallen into disrepair. The $12 million renovation, completed in 1988, earned a National Landmark designation. The following year, Little Caesars moved its headquarters from the suburbs into a 10-story office building adjacent to the theater.
Bush Tribute


"Mike was a great citizen of our country, a self-made man with talent, drive, and a huge heart," former President George W. Bush said in a statement. "My favorite memories with Mike are of our discussions about our shared love, baseball. Another of Mike's passions was his beloved Detroit. He generously gave back to his city and made it a better place. Laura and I are deeply saddened by the loss of our friend."
The company entered the city's gaming industry in 1999 with its purchase of MotorCity Casino Hotel, which underwent a $300 million renovation that added a luxury hotel, restaurants and 1,800-seat theater. Observing Major League Baseball's rule barring a team owner from involvement with gambling, Marian Ilitch owns the casino while her husband owned the Tigers.
Ilitch Holdings, which includes all of the family's operations, had revenue of $3.4 billion in 2016, according to the company statement.
Macedonian Parents
Mike Ilitch was born Michael Ilievski on July 20, 1929, in Detroit to Macedonian immigrant parents, according to Baseball-Reference.com. He graduated from Thomas M. Cooley High School in Detroit and spent four years in the U.S. Marine Corps.
In the early 1950s, he was an infielder in the Tigers farm system until a knee injury ended his athletic career. After a few stints as a door-to-door salesman, he and two partners started a company that sold awnings, according to a 1992 New York Times article. He met Marian in 1954 on a blind date and they married within one year.
When his partners told him they were buying out his share, Ilitch and his wife spent $10,000 to open a carry-out pizza restaurant in Garden City on May 8, 1959 -- before the first Pizza Hut, Domino's or Papa John's had opened. Marian named the store Little Caesars after her husband, who she thought looked like the Roman emperor and hadn't yet accomplished much.
'Stuffing' Strategy
Their business plan involved a streamlined menu and low prices. One strategy was "stuffing a family for less than $10," according to the Times story. "When they walk out of the store, I want them to get a hernia," the newspaper quoted Ilitch as saying.
The couple started selling franchises in the early 1960s. Mike Ilitch handled the menu and marketing while Marian managed the finances. In 1979, he started the two-for-one deal dubbed Pizza!Pizza!, and created a conveyor oven to quickly bake take-out pies so customers wouldn't have to wait or call ahead. Backed by a national advertising campaign, sales mushroomed. By 1987, the chain had restaurants in all 50 states, according to the company.
The couple's philanthropic activities include Ilitch Charities, which funds human services, education and recreational programs. Ilitch was inducted into the National Hockey League Hockey Hall of Fame in 2003.
With Marian, who is vice chairwoman of Ilitch Holdings, he had seven children: Denise, Ronald, Michael Jr., Lisa, Atanas, Carole and Christopher.
Before it's here, it's on the Bloomberg Terminal.
LEARN MORE