Fischer Says Fed Focused on Goals Amid Trump Policy Uncertainty
By and
Says curbing bank capital will make banking system less safe

Fed focused on dual mandate with U.S. fiscal outlook unclear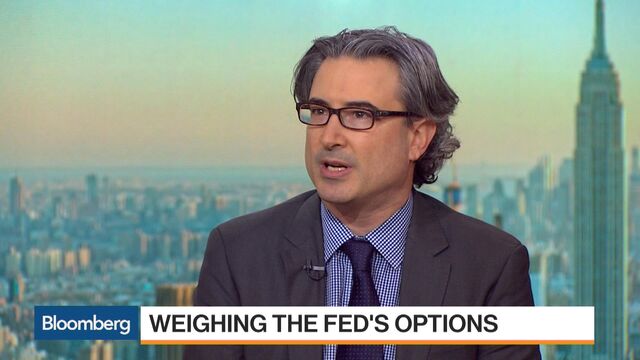 Federal Reserve Vice Chairman Stanley Fischer defended post-crisis U.S. banking reforms that Donald Trump's administration wants to undo and said the central bank is focused on its dual mandate for inflation and jobs amid "significant uncertainty" on fiscal policy.
"I don't think anyone quite knows what's going to come out of the process which involves both the administration and Congress in the deciding of fiscal policy and a variety of other things.,"' Fischer said in response to audience questions at a conference Saturday in Coventry, England. "At the moment we are going strictly according to what we see as our responsibility according to law."

Fed officials, who raised interest rates by a quarter percentage-point in December, have given no indication on the timing of their next hike in response to slow but continuing improvements in the U.S. economy. The Federal Open Market Committee meets next on March 14-15, when investors see a 28 percent chance policy makers will increase rates, based on prices in federal funds futures contracts.
Though some Fed officials have argued March should be on the table for a possible move, recent economic data has not created any sense of urgency in the debate. While employers continued to add jobs at a healthy clip, U.S. unemployment edged up in January to 4.8 percent while wages rose only modestly. Excluding food and energy, prices rose 1.7 percent in the 12 months through December, according to the Fed's preferred gauge of inflation.
'Nearly There'
"We're very nearly there. There could be a further somewhat strengthening in the labor market -- and to get inflation to 2 percent," Fischer said.
Officials projected three quarter-point rate increases this year, according to the median of their quarterly estimates in December; up from the two moves they had forecast three months earlier. That was partly in response to steady progress toward the Fed's goals of 2 percent inflation and full employment. Some officials also began incorporating into their outlook assumptions about pro-growth policies likely to be proposed by the then-incoming Trump administration.
Since then, however, the White House has provided no clear details about what measures it plans it intends to bring to Congress on taxes, spending, regulatory reform or other steps aimed at boosting the economy. That has left Fed officials, and investors, with a heightened degree of uncertainty over the likely path of rates this year and next.
"We don't want to put in very clear expectations when I don't think they exist in the policy making apparatus yet," Fischer said.
Yellin Testifies
Fed Chair Janet Yellen is scheduled to testify before U.S. lawmakers Tuesday and Wednesday in Washington where she is expected to keep the Fed's options open on the timing of the next hike.
Fischer was also asked about the future of the sweeping post-crisis banking reforms of the 2010 Dodd-Frank Act that President Trump has said is holding back small businesses and must be undone.
"I don't think that the Dodd Frank act as a whole is going to be repealed. There may be some adjustments to it," he said. "There are many aspects that are extremely important. Significantly reducing the capital requirements would reduce the safety of the system and we certainly hope it's not going to happen, particularly for the big banks."
Trump's ability to reshape central bank oversight of Wall Street was improved Friday by the news that Fed Governor Daniel Tarullo will step down in early April. Tarullo has been the Fed's key official on banking and his departure will give the White House an opportunity to fill three of the seven seats on the Fed Board in Washington, where there are already two existing vacancies.
Before it's here, it's on the Bloomberg Terminal.
LEARN MORE