Yellen Urged to Abolish Stress Tests as GOP Pursues Banks' Wish List
By and
Senate's Toomey tells Yellen that exams are hampering lending

House's Hensarling wants assessments to happen less frequently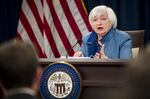 Republican lawmakers are increasingly going after a target that's long triggered compliance headaches for Wall Street: the Federal Reserve's annual assessments of whether banks can survive financial meltdowns.
Senator Pat Toomey urged Fed Chair Janet Yellen Thursday to abolish the stress tests, arguing they're hampering lending, burdening banks with unnecessary costs and hurting economic growth. House Financial Services Committee Chairman Jeb Hensarling also wants the tests dialed back, and is considering proposing legislation that would subject banks to exams every other year, rather than annually.
"Some institutions are spending hundreds of millions of dollars for annual compliance," Toomey, a Pennsylvania Republican, wrote in a letter to Yellen. "The Federal Reserve should terminate" its exams, he added.
The Fed has received Toomey's letter and plans to respond, a spokesman said.
Toomey also said Yellen should consider halting all rulemaking. He wants her to hold off until the Treasury Department completes a review of financial regulations requested last week by President Donald Trump and until the new administration can fill vacancies at the Fed.
Economic Disasters
Large banks have been pushing for changes to stress tests since they were put in place in the wake of the financial crisis. The consequences for failing are severe, with lenders facing restrictions on paying dividends, limits on buying back shares and damages to their reputations.
The exams -- featuring an ever-changing set of hypothetical economic disasters invented by the Fed -- generally represent the highest bar Wall Street banks must clear when determining how much capital they need. While the tests initially helped restore confidence in banks after the 2008 meltdown, investors in recent years have blamed them for impacting how much capital can be returned to shareholders.
Toomey, a former derivatives trader, sits on both the Senate Banking Committee and Senate Finance Committee, which oversee banks and tax policy, respectively. He is also leading the charge on the Banking Committee to identify what aspects of the 2010 Dodd-Frank Act can be altered through a budget reconciliation bill that would require just a simple majority to pass. Senate Banking Committee Chairman Mike Crapo, an Idaho Republican, hasn't yet outlined what his plans are for revising financial rules.
In the House, Hensarling sent a memo to lawmakers this week that updated his plans for dismantling Dodd-Frank. The Texas Republican included a section on stress tests, specifically proposing that the Fed conduct them less frequently and that banks be exempt from the exams if they agree to dramatically increase their capital. Hensarling also wants to toss out one of the stress test's toughest components -- the so-called qualitative assessment that evaluates a bank's plans for managing capital and risk.
Losing Steam
Last week, the Fed issued a rule that gave regional banks and some foreign firms a major break from one of the most onerous parts of the process.
On the flip side, agency officials said in September that the Fed would propose changes early this year that could force banking giants such as JPMorgan Chase & Co. and Goldman Sachs Group Inc. to maintain billions more in capital. The effort could lose steam once the Trump administration starts nominating governors to the Fed board.
Before it's here, it's on the Bloomberg Terminal.
LEARN MORE