Trump Reaffirms 'One-China' Stance in First Call With Xi
By
Agreed at Xi's request to honor long-held policy: White House

Chinese leader expresses willingness to boost U.S. investment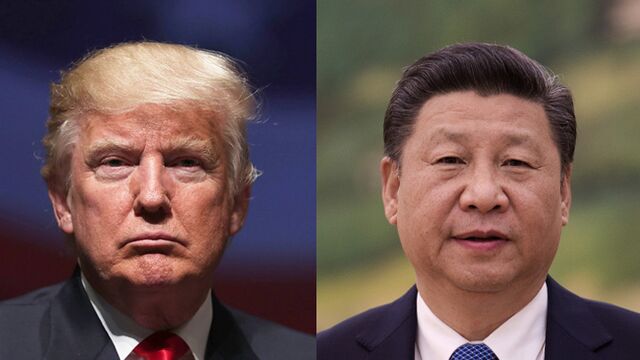 Donald Trump reaffirmed the U.S.'s support for the 'One-China' policy in his first phone call as president with Chinese counterpart Xi Jinping, easing a key source of diplomatic tension between the world's two largest economies.
"The two leaders discussed numerous topics and President Trump agreed, at the request of President Xi, to honor our 'One-China' policy," the White House said in a statement Thursday. "They also extended invitations to meet in their respective countries. President Trump and President Xi look forward to further talks with very successful outcomes."
Xi said it was necessary for both sides to increase cooperation, state-run China Central Television said. The Chinese president said his country was willing to boost ties with the U.S. on trade, investment, technology, energy and infrastructure. Xi also said the two countries should enhance communication in international and regional military affairs.
"Facing an extremely complicated global situation and rising challenges, there's a greater need for continuing to enhance cooperation between China and the U.S.," Xi said, according to CCTV.
Read: Why Trump raising doubts about 'One-China' is a big deal
Tensions with China rose after Trump tweeted about his protocol-breaking phone conversation with Taiwanese President Tsai Ing-wen on Dec. 2 and subsequently questioned the One-China policy in interviews. Trump has also threatened higher tariffs on Chinese products, raising the risk of a trade war that could hurt global growth.
The One-China policy acknowledges that China and Taiwan are part of the same country. China considers the island a province and has made recognition of the policy the foundation for diplomatic ties with the U.S. and all other countries.
QuickTake How 'One-China' Affects Taiwan
"It is a first step to settle the uncertainties regarding the U.S. and China, but there are other issues out there," said Mark Michelson, chairman of the Asia CEO Forum in Hong Kong, a business group of about 300 international chief executive officers. "What about trade? Will there be sanctions? Will China be called a currency manipulator? What about the South China Sea?"
The call came after U.S. and China military aircraft had an "unsafe" encounter over a disputed part of the South China Sea, the first publicly confirmed incident since May. The two surveillance planes flew within 1,000 feet of each other near the Scarborough Shoal, which is claimed by both China and the Philippines, a U.S. treaty ally.
Trump faces pressure to meet campaign pledges to get tough on China, which he accuses of draining America of manufacturing jobs. The billionaire real estate developer has promised to label China a currency manipulator, bring trade complaints against the nation and impose tariffs if it doesn't halt what he sees as unfair trading practices.
'Extremely Cordial'
The White House statement described the call as "lengthy" and "extremely cordial," providing no further details on what they discussed. Representatives from both sides would meet later to discuss and negotiate on "various issues of mutual interest," it said.
While Chinese Foreign Ministry spokesman Lu Kang also said the conversation was "very good" and "extensive," he noted that "respect for the One-China policy is the obligation of the U.S. side." The country's dealing with Taiwan must come within that framework, Lu said at the ministry's daily news briefing in Beijing.
"The one China principle is the political foundation of the China-U.S. relationship," he said. "From the phone call between the two presidents, we can see that the American government is committed to the One-China policy, and we appreciate that."
Watch Next: With Trump, Taiwan's Tightrope Gets Narrower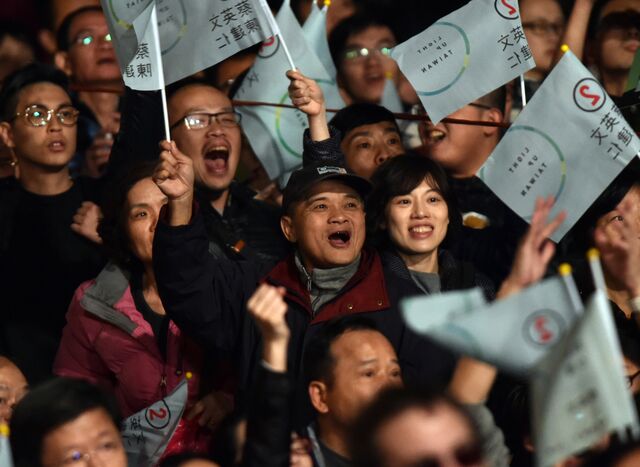 'Strategic Composure'
Taiwan's Presidential Office said in a statement Friday that good relations between the U.S. and China were beneficial. It said that Taiwan and the U.S. have adopted a "zero-surprise" approach to communications and have been in close contact since Trump and Xi spoke.
The conversation with Xi comes almost three weeks into Trump's presidency and follows post-inaugural phone calls and meetings with several leaders, including Vladimir Putin of Russia and Recep Tayyip Erdogan of Turkey. Shinzo Abe, prime minister of Japan, China's biggest regional rival, arrived Washington on Thursday for meetings with Trump.
Trump sent a note to Xi earlier in the week, saying he was seeking smoother ties. He thanked Xi for a congratulatory letter and wished China a happy Year of the Rooster.
China has sought to maintain "strategic composure" in its response and avoid escalating tensions. Xi has reached out to Trump three times since his election win, including two congratulatory messages. They had a phone conversation on Nov. 14 in which Xi said cooperation was "the only correct choice" for ties.
"China's pragmatic and restraint approach has worked," said Jia Qingguo, dean of Peking University's Department of Diplomacy, and a foreign affairs adviser to the government. "His reaffirmation on China's bottom-line issue shows he's still a person China can work with, after the bumpy beginning."