SoftBank's Robot 'Pepper' Flogs Beer and Burgers at Airport
By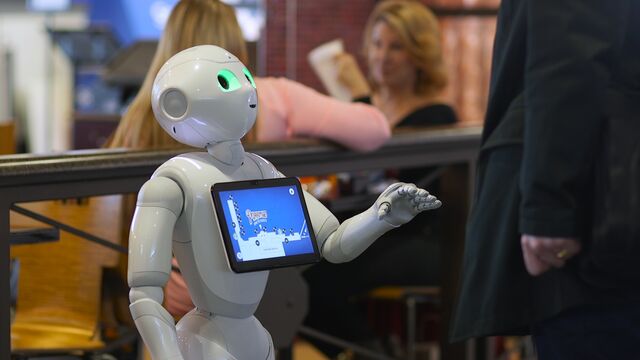 Pepper, the humanoid robot from Japan's SoftBank Group Corp., has just scored one of its first jobs in the U.S.: hawking beer.
The Pyramid Taproom at Oakland International Airport has been using Pepper for about two weeks as a greeter and pitchman for its beer and food menu. It also offers directions to anyone passing by and looking for help finding their way around the airport. Pepper's U.S. gigs, with the Taproom job following work as a provider of directions at a mall in nearby San Francisco, are among the first steps by the technology company to find a role for its robots among U.S. consumers.
At the airport, a tough environment for the robot's speech-recognition abilities, Pepper repeatedly succeeds in drawing a crowd. As soon as one brave flyer gives in to curiosity and tries talking to the white, 4-foot tall electronic creature, other people quickly gather around. In one three hour stretch Pepper had as many as 20 people hooked on every word she said, trying to shake her hand and pose for selfies.
To have lasting impact though, the computer on wheels will have to use its over-sized eyes, gesticulations, flashing lights and chest-mounted touch-screen to do more than provoke casual curiosity.
SoftBank engineers say they're learning from the initial deployment. They're studying airport users' interactions with Pepper and gauging expectations for the white plastic humanoid. To avoid being just a fad, Pepper's functionality - quickly answering questions with the right information - must improve and be expanded, something SoftBank said it's working on.