Too Soon to Discuss China Replacing U.S. in TPP, Singapore Says
By and
Trump pullout 'changes the equation' for trade pact: Iswaran

Singapore keeping its options open on TPP's future: Iswaran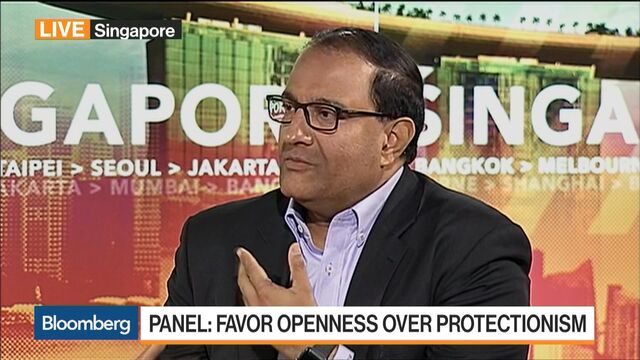 It is too early to think about other countries like China joining the Trans-Pacific Partnership after Donald Trump withdrew the U.S. from the trade pact, according to the Singapore government.
Asked if Singapore would first want to clarify the future of the TPP with the 10 other parties that remain, Trade and Industry Minister S. Iswaran replied: "To some extent that would be the case."
"I think we have to allow for some time, it's still very early days in the new U.S. administration," he said on Friday in an interview. "I think we have to see how that also evolves in terms of their own attitude towards trade and economic engagement with the TPP."
The TPP -- a signature policy of the former U.S. administration -- was thrown into disarray after Trump pulled the U.S. out in one of his first acts as president, signaling a more protectionist approach. He has already criticized the trade policies of Japan, China and South Korea, having threatened to start a trade war with Beijing.
China should now seek to join the TPP as early as possible to build closer ties with countries in the region and limit trade friction, the China Daily reported on Friday, citing researchers from the Center for China and Globalization.
China Question
"If a new major country, China or any other, come on board, there will have to be a reassessment and the elements of the agreement will have to be I think revisited by all parties," Iswaran said when asked about the report.
The pact, which goes beyond traditional trade deals to include issues like intellectual property, labor standards and the role of state-owned enterprises, was seen as a U.S. counterpoint to China's increased clout in Asia. China is also pushing for a separate Asia agreement that does not currently include the U.S., with talks on that pact to be held this month in Japan.
Beijing has mooted previously its potential to take part in the TPP. The U.S. and some other nations had said in response the pact needed to be enacted by the original members before others could join -- and then only if they met the standards on the non-trade issues encompassed in the deal.
"When one major party pulls out it obviously changes the equation, but there are many elements in that agreement which I think are very high standard, and basically have been agreed to with an eye to the future in terms of how the economies will evolve and certain trends," Iswaran said.
'Dark Room'
"The specific manner of any developments in terms of the current TPP structure and its members, and any new members coming in, I think that is something that the parties have to discuss."
As Trump increases his protectionist rhetoric, China's leaders are ramping up support for globalization and free trade. In a speech last month to the World Economic Forum at Davos, President Xi Jinping likened protectionism to "locking oneself in a dark room."
Trump opposed the pact because he said it could hurt American jobs. But the impact of his decision is likely to go beyond trade, giving leeway to Xi to position China as an economic and military anchor in the western Pacific. Since coming to power, Xi has sought to expand China's trade ties with its neighbors and begun an ambitious infrastructure project to reinvigorate ancient trading routes to the Middle East and Europe.
Iswaran said Singapore was keeping its options open on where the TPP could head from here. Speaking in parliament earlier this week, Trade Minister Lim Hng Kiang said the TPP as signed can't come into effect without the U.S.
TPP Without U.S.
Australia has said it will seek to push ahead with the TPP -- minus the U.S. -- at a meeting of other potential members in Chile next month. The pact remains "absolutely" relevant without the U.S. and the text of the accord would only need minor tweaking to allow for America's withdrawal, Trade Minister Steven Ciobo said in a Bloomberg Television interview on Wednesday.
Asked about whether a so-called TPP-11 would be feasible, Iswaran said there were several potential ways to keep the TPP alive, including allowing the U.S. to rejoin at some point.
"I think we have to keep ourselves flexible about this," he said. "It doesn't serve I think the interest of nations to be too locked in, it is better to have some level of flexibility and to see which are the pathways that best serve our national and mutual interests."
Still, the Chile meeting could be a good starting point, he added. "Everybody will be able to reassess and enough time would have passed for the new administration to take stock."
Before it's here, it's on the Bloomberg Terminal.
LEARN MORE