Renault CEO Says France Sale Would Allow Nissan Stake Shift
By
"Everything is open" once France exits its 20% stake: CEO

State holdings may be reviewed after April-May elections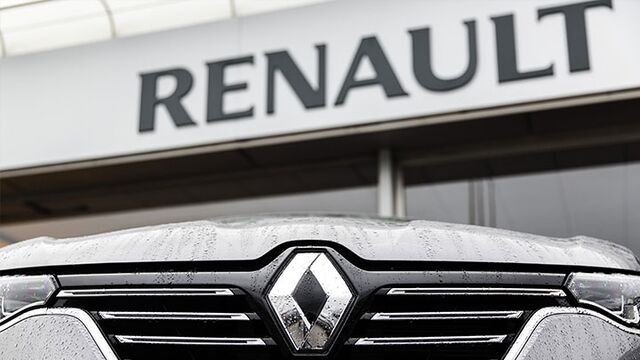 A lopsided alliance between Renault SA and Nissan Motor Co. could be revised once France sells its stake, paving the way for the Japanese manufacturer to increase its involvement, according to the carmakers' chief executive officer Carlos Ghosn.
"The day the French state decides to get out, everything is open, and I can tell you it won't take too much time," Ghosn, who runs both Renault and Nissan, told analysts after the French carmaker released results on Friday.

The auto industry's most successful alliance has been strained by imbalanced shareholdings. Nissan, which contributes most of the profits to the partnership, only owns 15 percent of Renault and has no voting rights, while Renault has 45 percent of its partner. The Japanese carmaker sought to increase its sway in the alliance but was thwarted by the French government, Renault's biggest shareholder with a 20 percent stake.
The partnership was tested in 2015, when the French government sought to double its voting power in Renault by increasing its shareholding in the company without first consulting Ghosn. While France eventually pledged to not interfere in Nissan's governance, the episode exposed weaknesses in the tie-up, showing that the state has more influence over the group than its most profitable member.
Soap Opera
After "the soap opera of the double voting rights and the discussion with the French state," Ghosn said, "the Japanese will never accept to be part of an entity where, considering everything that has happened, the French state would be shareholder of Japanese assets."
The structure is further complicated by Nissan's acquisition late last year of 34 percent in ailing Mitsubishi Motors Corp., which Ghosn also heads. Combined, the three companies form the world's fourth-largest auto group, after Toyota Motor Corp., Volkswagen AG and General Motors Co.
The French government's been under pressure to sell corporate stakes to help plug a budget deficit and support its ailing nuclear industry, and its involvement in Renault is likely to come under review following the presidential elections that commence in April. Conservative candidate Francois Fillon has said he would reduce the state's corporate holdings while his opponent, former economy minister Emmanuel Macron, was partly responsible for the state's move to increase its ownership in Renault.
France raised its stake in Renault to 19.7 percent in April 2015 from 15 percent as it sought to push through extra voting rights under the so-called Florange law, which grants more say to long-term investors. While the increased holding was supposed to be only temporary, France still hasn't lowered the stake. 
Until the French government acts, nothing will change, Ghosn said.
"Operationally we are going to continue the convergence and keeping the identity of the brands separate," Ghosn said.


Before it's here, it's on the Bloomberg Terminal.
LEARN MORE