Le Pen May Get a Shock If She Tries to Pay French Debt in Francs
by and
Investors question Le Pen's view on currency of debt payments

'We would need to re-assess our exposure': Banque Audi's Naud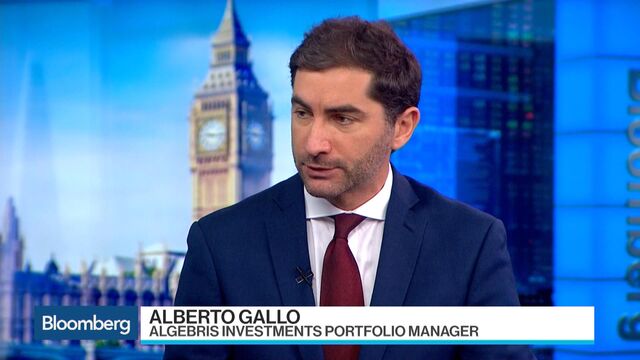 French Presidential candidate Marine Le Pen says most holders of the nation's debt don't care what currency they get repaid in. The investors themselves disagree.
If the re-denomination of the debt became a real possibility, "we would need to re-assess our exposure to France," said Yannick Naud, head of fixed income at Banque Audi in Geneva. "International emerging-market investors expect much higher yield for debt in local currency than in hard currency in order to compensate for the currency risk. I would expect the same for France in this scenario."

The National Front leader is trying to convince French voters they can leave the European single currency without hurting their pocket books ahead of a presidential election in April. As part of her plan, she intends to take control of the Bank of France and print new francs to pay for welfare spending and to service the government's financial obligations.
Speaking in a two-hour television interview on Thursday, Le Pen defended the policy of re-denomination, saying that it wouldn't matter for investors, or the French people. Concerns that Le Pen will triumph in the elections have roiled markets this week, pushing the premium investors demand to hold French bonds over similarly maturity German debt to the highest in more than four years.

"We don't care who owns France's debt, what matters is what type of contracts the debt is in," Le Pen said. Lenders "won't be repaid in euros, the contracts are in French law. And according to the IMF, 90 percent of the French debt is under French law, that means that only 10 percent would be at risk. It's the lex monatae," she said, referring to the right of a sovereign state to chose which currency it will use.
Polls show Le Pen is on course to lead the first round of voting in April, but is unlikely to win the decisive May 7 run-off. The French electoral system, a two-round direct vote, means the winner needs broad-based support making it difficult for more extreme candidates like Le Pen to take power. 
Changing French debt into francs would constitute a default in the eyes of the major rating companies, according to Christian Lenk, senior market strategist at DZ Bank AG in Frankfurt. Moody's Investors Service is due to scheduled to release an update on France's Aa2 rating on Friday.
The yield difference between French and German 10-year bonds widened two basis points to 70 basis points on Friday. Still, that's down from about 80 basis points on Tuesday, the highest since 2012.
"The major consideration for international investors" is "what the new French franc is worth relative to the old euro and relative to their own currency," said James Athey, a fixed income portfolio manager at Aberdeen Asset Management in London. "French investors might not care as much, but investors whose base currency is dollars or sterling would very much care as the base currency valuation of their holding could end up being significantly less."
Before it's here, it's on the Bloomberg Terminal.
LEARN MORE