Greenberg Settles Longer-Than-World-War Court Clash: Timeline
By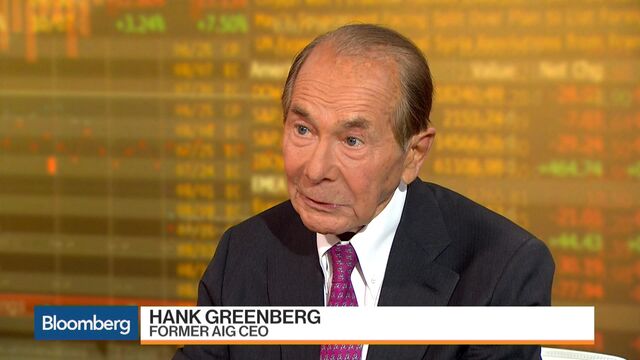 Maurice "Hank" Greenberg settled a court case into reinsurance fraud at American International Group Inc. more than a decade after he left the company amid the probe. Below is a timeline of key milestones in his career and the legal dispute.
1960: Greenberg joins C.V. Starr & Co.
1962: Starr names Greenberg president of American Home Assurance Co.
1967: AIG, which was formed to hold companies founded by Starr, names Greenberg CEO.
1987: Greenberg forms the AIG Financial Products venture with Howard Sosin, former head of Drexel Burnham Lambert Inc.'s interest rate products group, to develop, market and trade derivatives.
1995: Greenberg's son Jeffrey resigns as AIG's executive vice president and joins broker Marsh & McLennan Cos.
Jan. 21, 2000: Greenberg says his son Evan will succeed him as CEO.
Nov. 6, 2001: Evan Greenberg is named to run the reinsurance business of rival Ace Ltd.
Oct. 14, 2004: AIG stock falls 10 percent after New York Attorney General Eliot Spitzer sues Marsh & McLennan. Spitzer accuses the insurance broker, which is led by Jeffrey Greenberg, of taking payouts to steer unsuspecting clients to certain insurers. Spitzer says AIG is among companies that participated in bid rigging.
March 14, 2005: AIG says Martin Sullivan will replace Greenberg as CEO.
March 28, 2005: Greenberg tells AIG he's stepping down as chairman, relinquishing ties with the company he spent four decades building into the world's biggest insurer.
May 1, 2005: AIG says it will correct five years of results.
May 26, 2005: Spitzer sues AIG and Greenberg, saying the insurer used sham reinsurance contracts and altered its books to understate liabilities.
Sept. 27, 2005: AIG sues in federal court for control of company stock held by Starr International Co., an insurance and investment business run by Greenberg.
Feb. 9, 2006: AIG agrees to pay more than $1.6 billion in a settlement with Spitzer and the U.S. Securities and Exchange Commission to resolve allegations it misled investors, fixed bids and cheated workers' compensation programs.
Sept. 6, 2006: Spitzer drops portions of the suit against Greenberg.
Nov. 2, 2007: Greenberg begins a campaign to shake up AIG management after a stock slide tied to subprime mortgage losses.
Dec. 12, 2007: New York Insurance Superintendent Eric Dinallo says Greenberg must stop trying to influence AIG unless he gets an exemption from state rules relating to people who control more than 10 percent of a company's stock.
March 26, 2008: AIG sues Greenberg and other former executives, claiming they misappropriated stock worth more than $20 billion by taking over the board of Starr International, AIG's largest shareholder, and converting it into a private investment vehicle for their benefit. The complaint mirrors the federal claim filed by AIG against SICO in 2005.
May 12, 2008: Greenberg says that the insurer is in "crisis" and should delay its annual meeting after a record $7.81 billion first-quarter loss tied to derivative bets by the AIG Financial Products unit.
Sept. 16, 2008: With AIG on the verge of collapse, investors led by Greenberg say that they are considering taking control of the insurer through a proxy fight or participating in a buyout. They also are considering buying assets from AIG, according to a regulatory filing.
The Federal Reserve Bank of New York agrees to loan as much as $85 billion in exchange for an AIG stake of almost 80 percent in a bailout that eventually swells to $182.3 billion.
Oct. 7, 2008: Greenberg tells lawmakers that AIG was healthy when he left and that controls he put in place were weakened or eliminated. He submits written testimony rather than testify to Congress in person, because his is ill, according to his lawyer.
Jan. 20, 2009: Greenberg says he'll probably sit out auctions of AIG assets, calling the breakup of the company a "tragedy."
March 2, 2009: Greenberg sues AIG for securities fraud, saying the company's "material misrepresentations and omissions" caused him to acquire shares at an inflated value.
July 7, 2009: A federal jury rejects AIG's claims that Starr International looted stock from the insurer.
Aug. 6, 2009: Greenberg agrees to pay $15 million to settle SEC claims that he manipulated AIG's earnings.
Aug. 27, 2009: AIG climbs 27 percent on speculation that the company will benefit from improved relations with Greenberg under Robert Benmosche, the insurer's new CEO.
"The world may choose to vilify him," Benmosche said in a Reuters report. "I think of him as having had some problems, but he can help us with the solutions."
Nov. 25, 2009: AIG agrees to settle all legal disputes with Greenberg, saying it will return photographs and a Persian rug and may reimburse as much as $150 million in legal fees.
April 20, 2010: New York's case against Greenberg is "devastating," State Supreme Court Justice Charles Ramos says in a court hearing. Greenberg had sought a decision before the trial or a dismissal.
Oct. 21, 2010: Greenberg loses bid to throw out New York suit.
Nov. 21, 2011: Greenberg's Starr International sues the U.S. over the bailout, seeking $25 billion in damages, saying the government violated the Constitution by demanding majority control as a condition of the bailout.
July 12, 2013: Greenberg sues Spitzer, accusing the former attorney general of making false and defamatory statements as part of a campaign to damage his reputation.
Feb. 4, 2014: Greenberg loses bid to remove a judge from the New York lawsuit.
April 30, 2015: Greenberg is quoted in the New York Times saying he'll refuse to acknowledge wrongdoing to settle the case.
"I was told I could plead guilty, but to what? I did nothing improper," Greenberg says. "I would never admit I did something just to get out of litigation."
June 15, 2015: U.S. Court of Claims Judge Thomas Wheeler rules that the U.S. set illegal terms in the bailout, but that doesn't mean the insurer's investors deserve compensation.
Sept. 13, 2016: Trial begins in New York case with an assistant attorney general noting that it took less time to fight World War II than to get Greenberg into court.
Feb. 10, 2017: Greenberg admits to approving two fraudulent reinsurance deals, the attorney general's office says in announcing a $9 million settlement. Greenberg's lawyer, David Boies, said the deal included no admission that he knew the deals were fraudulent or improper and that the state's case had "totally collapsed at trial."