Fillon Faces Money Problems as He Attempts Comeback in France
By
Republican outspent mainstream rivals winning party nomination

Former President Sarkozy faces trial for illegal funding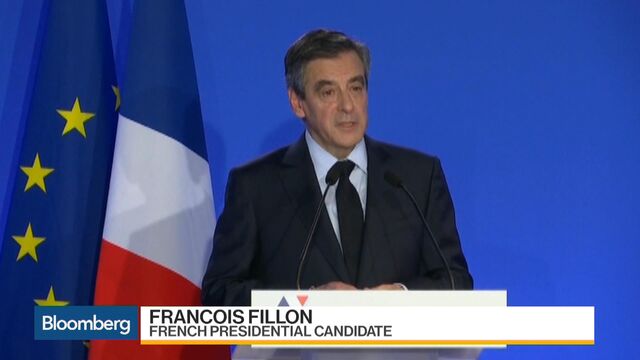 Francois Fillon's efforts to climb back into contention in the French presidential race are running into financial constraints.
While the Republican has raised the most money so far, he also spent more than his mainstream rivals on his primary campaign. Added to that, his party is hyper-sensitive about the limits on campaign spending after running into trouble with a splurge in 2012 and the belt-tightening is starting to show.
"Every day I look into our spending -- every day," Fillon's campaign chief Patrick Stefanini said in an interview. "Every day my treasurer tells me it's not cash I should worry about, but spending."
For a dashboard tracking European political risk, click here
After almost seeing his candidacy derailed by allegations he'd handed his wife an unjustified public salary, Fillon can ill afford any missteps on campaign financing. Indeed, his defeated primary opponent, former President Nicolas Sarkozy, stands as a cautionary tale. Sarkozy is due to stand trial for spending violations during his losing 2012 campaign and has already incurred fines that nearly bankrupted his party.
The money involved in a French presidential election is nothing like what's spent in the U.S. The entire French campaign may cost barely 100 million euros while Donald Trump and Hillary Clinton spent $1.8 billion on their battle for the White House. The challenge for French candidates is as much about how to deploy their funds as how to raise them.
Primary Battle
Fillon spent just under 1.5 million euros ($1.6 million) on his primary campaign as he overturned party grandees Alain Juppe and Sarkozy to score a shock victory. By comparison, Socialist Benoit Hamon spent just 150,000 euros on securing his nomination and the independent Emmanuel Macron, the favorite to win, didn't even fight a primary. A spokesman for nationalist Marine Le Pen declined to comment on her spending.

Hamon has now spent about 1 million euros in total and plans to spend as much as 15 million euros more before the first round of voting on April 23, according to a campaign spokesman. He's borrowed 8 million euros from Credit Cooperatif.
Team Fillon is having to count the pennies just as their man needs new impetus. A torrid couple of weeks saw the one-time front-runner slip to third place in the polls after he was dragged into preliminary criminal investigation for alleged nepotism over his wife's job.
Read more: an explainer on the Fillon affair
While Le Pen, Macron and even far-leftist Jean-Luc Melenchon are booking stadiums and conference centers in major cities like Lyon and Paris, Fillon is making do with more modest settings.
He spoke in small meeting room in the northeastern Ardennes region on Feb. 2 and visited a factory on Feb. 7 though the budget did stretch to the iconic Futuroscope center in Poitiers on Thursday. Even before he went underground during the first week of the scandal, Fillon's relatively low profile had led the French press to dub him "the invisible candidate."
Sarkozy Indictment
It's a far cry from 2012 when Sarkozy was renting out sports grounds for elaborate rallies and throwing cocktail parties for privileged insiders. A French judge this week ordered Sarkozy should stand trial for allegedly attempting to cover up spending of at least 42.8 million euros -- almost twice the campaign limit.
"For the Republicans 2012 is a trauma," Rene Dosiere, a Socialist lawmaker who specializes in the use of public money, said in an interview. "Sarkozy's spending went totally out of line and he nearly ruined his party. Fillon is trying to avoid that at all costs."
The first meeting after news broke that he employed his wife as a parliamentary assistant was a symbol of the Fillon campaign's austerity. Over 10,000 supporters gathered in a warehouse-like hall out by the beltway in northern Paris. The decoration was minimal and there was no cocktail party for VIPs afterward.
Under election rules implemented in 1988 after a string of scandals, French candidates can spend as much as 16.9 million euros on campaigning for the first round while the ceiling rises to 22.5 million euros for the two contenders who reach the run-off on May 7. Anyone who gets more than 5 percent of the vote has almost half of their spending refunded by the state.
Banks Take Sides
Le Pen's anti-euro campaign, still tainted by her party's racist past, says French banks have refused her funding, unlike in 2012 when Societe Generale helped finance her presidential bid. She's taken a 6 million euro loan from her father to sustain her operations and told Paris Match she is seeking additional financing in the U.S.
Running as an independent means Macron doesn't have the financial heft of a party machine behind him. He's raised 5 million euros from private donations so far and is aiming to pull in another 2 million euros. He's also negotiating with two banks for a loan of 8 million euros, a spokesman said, declining to specify how much the candidate had spent.
Macron's more streamlined campaign also has much lower overheads than Fillon, paying 20,000 euros a month for its headquarters. Fillon's staff are based in a 27,000 square-foot (2,500 square-meter) space in southern Paris which costs 150,000 euros a month, according to funding chief Vincent Chriqui.
Chriqui said he's allocated about half the campaign's budget to electoral meetings and Fillon has asked him to be "very rigorous" to make sure they don't exceed the spending limits.
"They want to avoid taking any risks," Dosiere said. "They are very conservative in their spending now."
Before it's here, it's on the Bloomberg Terminal.
LEARN MORE