Even a Le Pen Win Won't Be Enough to Break Up Euro, Banks Say
By
UniCredit says France leaving the euro is a 'very low' risk

Commerzbank says a Le Pen victory can trigger capital flight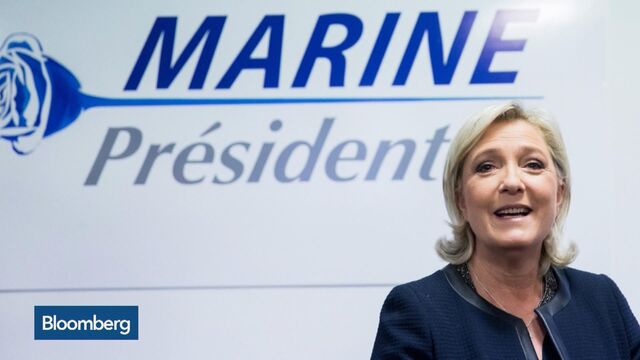 Whatever the outcome of France's presidential elections, it probably won't raise the odds of an exit from the euro, most analysts say.
The chances of anti-euro candidate Marine Le Pen winning the second round on May 7 are slim and even if she does, the National Front party leader is unlikely to get a majority in the legislative vote in June, according to banks including Barclays Plc and UniCredit SpA. Without strong support in Parliament, her ability to push for a referendum on the country's membership in the currency union will be limited, according to most currency strategists and economists.
Nevertheless, a Le Pen victory can't be ruled out and would spark a capital flight from France and peripheral euro nations such as Italy, Commerzbank AG says. The common currency slid 1.5 percent against the dollar this week on the mounting political concerns, while Credit Agricole SA and Morgan Stanley advised clients to sell the euro.

Below is a compilation of economists' and strategists' views:
Credit Agricole SA
The polls suggest that Le Pen will lose at the second round to either Macron or Fillon and this can explain the relative resilience of the euro of late, London-based strategist Valentin Marinov said in e-mailed comments on Feb. 9. "This may be misleading, however, and we advise cautiousness," he added
Still, a victory for Le Pen shouldn't automatically translate into a French exit from the euro zone. "An exit would be a long and complex process" as it would require a constitutional amendment, Marinov added
The bank assigns a 35 percent chance to Le Pen winning in the second round of elections, in line with polls

Barclays Plc
The chances of Le Pen winning the second round of the presidential election are "very, very small", unless Benoit Hamon or Jean-Luc Melenchon qualifies against Le Pen, London-based economist Francois Cabau wrote in e-mailed comments
"In any case, her party is extremely unlikely to come remotely close to an absolute majority in the lower house in the June general elections. She would have to accept cohabitation and thus would not be able to govern strictly following her manifesto"
Moreover, "exiting Europe means amending the constitution and barriers to get it done are quite high, in terms of the Parliament approval process," Cabau added
UniCredit SpA
There is certainly a measurable risk of Le Pen winning, Erik Nielsen, chief economist in London, said in e-mailed comments on Feb. 9
"All polls have her cruise into the second round, and once you have a one against one, you really never know what's going to happen," he added
"All in all, France leaving the euro zone remains a very low risk," according to Nielsen, as Le Pen is unlikely to get a majority in the parliament and "there is still a majority in favor of the euro zone" in France
Commerzbank AG
Chances of Le Pen winning the second round of election seen at 20%, Frankfurt-based economist Joerg Kraemer wrote in e-mailed comments
"A victory of Le Pen in the presidential election would probably lead France to leave the EMU. And without the political and economic heavyweight France, the rest of EMU is unlikely to survive," the economist added
"The news of a Le Pen victory would cause massive capital flight not only out of France but also out of the peripheral countries such as Italy. Capital controls and banking holidays would follow, which could be the start of the end of EMU," he wrote
Nomura Holdings Inc.
None of the opinion polls in any of the countries that face elections this year suggest a high scope for an anti-establishment shock, Andrew Cates, London based economist at the bank, said in a notes to client on Feb. 9

Any anti-establishment candidate would potentially face formidable legislative hurdles in any anti-EU endeavors

The base case at Nomura is that Emmanuel Macron will win the French presidential election,

Charles St-Arnaud

said in a note to clients on Feb. 10. Still, his party is unlikely to gain a majority of seats in the Assemblee Nationale and form the government and a period of "cohabitation", where the president's powers are reduced to the benefit of the prime minister, is likely

The probability of the election of Le Pen as president, while low, cannot be fully ruled out yet. Again, she will probably be forced into a period of cohabitation which would make it hard for her to call a referendum on France's EU membership and the matter may end up being decided by the courts

"We believe that ultimately the court could rule in favor of a referendum because of precedents and strong popular support for a referendum"

JPMorgan Chase & Co.
There is a strong likelihood that Le Pen reaches the second round of the presidential election but she would most likely lose by a decent margin against any opponent, London-based economist Raphael Brun-Aguerre wrote in a note to clients on Feb. 7
The odds of Le Pen obtaining a majority in parliament is low and a period of cohabitation would be likely if she wins the presidential election
Before it's here, it's on the Bloomberg Terminal.
LEARN MORE