Carney Warns Finance Workers It Isn't a 'Game'
by
BOE governor speaks alongside Archbishop of Canterbury

Says finance fails when it becomes a game between banks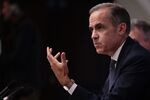 Bank of England Governor Mark Carney said finance must take into account its place in society to be sustainable and regain the trust lost in the global financial crisis and rigging scandals.
"The best in finance think about their end client," Carney said in an interview broadcast on BBC Radio 4 on Friday. "The failings in finance come often when it becomes a game in a 'Square Mile,' or in between each other," he said, referring to the nickname for the financial center in the City of London.
When financial activity doesn't put the needs of users first, or doesn't understand its broader social role, "it maybe be profitable for a while but it tends not to be profitable in the end," the governor said.
Carney's comments come as finance and regulators such as the BOE work to restore public confidence in an industry whose failings were revealed by the collapse of Lehman Brothers Holdings Inc. in 2008. The global downturn that followed sapped public confidence in banks, whose reputation was further tarnished by scandals such as benchmark rigging.
Speaking alongside the Archbishop of Canterbury Justin Welby, Carney said the voluntary code of conduct agreed in foreign exchange "is one of the reasons why we have greater confidence than we did a few years ago that markets will be sustainable."
Before it's here, it's on the Bloomberg Terminal.
LEARN MORE