Brexit Bulletin: Bad Tempers in Brussels
Theresa May's Brexit strategy appears to have increased the risk of a bitter Brexit negotiation.
By and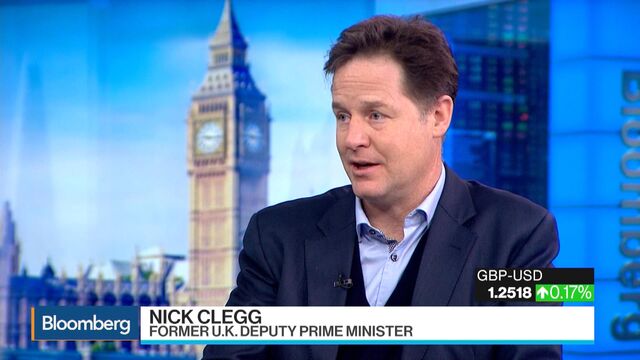 Sign up to receive the Brexit Bulletin in your inbox, and follow @Brexit on Twitter.
European Union governments are bracing for a bust-up after Theresa May fleshed out her Brexit plans.
A week after the British prime minister formalized her strategy, Brussels-based diplomats say the risk is growing that talks deteriorate early on, increasing the chance that Britain leaves the bloc in 2019 without an exit package, let alone the sweeping trade accord it's seeking.
EU officials have been irked by May's push to curb immigration while maintaining trade ties, as well as her warnings that failure to get what she wants could prompt her to slash taxes or withdraw security provisions.

Likely early flashpoints include haggling over how much the U.K. owes the EU and whether the divorce and the future can be discussed at the same time. Any clash could mean May has to rein in her ambitions to avoid a disorderly split.  
"The EU faces an existential crisis," said Malcolm Barr, an economist at JPMorgan Chase. "It will prioritize a deal which fosters coherence among the 27 and which demonstrates to all the disadvantages of leaving, even if that comes at a short-run economic cost to itself."
Former U.K. Deputy Prime Minister Nick Clegg told Bloomberg Television on Friday that May's plan to exit the single market were a "logical impossibility."
"I don't think I've met a serious person who is involved with the negotiations who thinks you can do what the government claims, which is settle the future arrangement between the government and the EU in its entirety within a very short timeframe."
Still, Italian Prime Minister Paolo Gentiloni said on Thursday that he had no interest in "destructive" Brexit talks.
Time for the Lords
To activate the discussions, May must first win the approval of Parliament.
Having won the backing of the House of Commons, she must now navigate the House of Lords, where her Conservative Party has less of a grip.

The opposition Labour Party said on Thursday it'll propose eight amendments, including the right for lawmakers to vote on May's final deal. Other proposals cover a range of other matters, from Britain's membership of Europe's nuclear cooperation agreement to the rights of EU citizens resident in Britain. On Friday the Liberal Democrats also said they would seek to amend the bill.
The bill can't become law until both houses of Parliament have approved it, so if the Lords amend it, it must return to the Commons. That said, no amendment succeeded in the Commons and peers have been warned that failure to ratify the bill would raise questions about the legitimacy of the unelected part of Parliament.
Brexit Secretary David Davis told Sky News that the Lords should do its "patriotic duty."
Corporate Boost
May's Brexit vision got a fillip on Thursday from the corporate sector.
Apple Chief Executive Tim Cook visited the premier and, according to the BBC, said he is "very optimistic" for Britain's post-Brexit future. He cited his intention to build a new U.K. headquarters in London with room for at least 1,600 staff.
"We're a big believer in the U.K.," said Cook. "There will be bumps in the road along the way, but the U.K.'s going to be fine."
Meantime, supercar manufacturer McLaren said it's shifting chassis production to the U.K. from Austria in a move that will reduce its exposure to potential tariffs after Brexit.
The company is building a £50 million plant in Sheffield to make lightweight carbon-fiber bodies for cars like the $1.4 million P1.
While the automaker's decision to shift production was made before last June's referendum, the move will boost the percentage of British-made parts in its cars and comes as manufacturers prepare to minimize taxes that may be due on imported parts.
"My request continually with the politicians is no tariffs, no trade barriers," CEO Mike Flewitt said on Thursday. "For God's sake, this is a modern world."
Automobile manufacturer Faurecia said it sees U.K. car sales falling 10 percent in 2017 because of Brexit.
Brexit Bullets
Control of U.K. borders may shave just 50,000 off the current net migration total of 335,000, according to Global Future
Poland Foreign Minister Witold Waszczykowski said a two-speed Europe would destroy the EU as he argued there is a need to "fix the European Union, not dismantle it"
Bank of England hawk Kristin Forbes prepares to depart; Charlotte Hogg named new deputy
The Legatum Institute said Brexit could pave the way for  a "prosperity zone" of like-minded countries such as the U.S., Australia and Canada to boost growth
Trade Secretary Liam Fox said his department is now 3,000 people-strong, including 200 trade negotiators
London gold wholesalers are considering a new U.K.-focused trade body, reports Platts
Manchester United on Thursday blamed a 27.1 percent increase in its debt to £409.3 million ($512 million) on the slide in the pound, which accelerated after last year's referendum
Brexit means markets turn bearish on the U.K., says Bloomberg View's Matthew Winkler
And Finally...
Near Dublin's riverfront, the cranes are back, busy replacing U2's iconic recording studio with a vast office complex.
Less than a decade after a property crash sank the financial industry in Ireland, banking and real estate are reconnecting in the heart of the country's capital. The plan is to provide a home for bankers leaving Brexit-era London, report Bloomberg's Peter Flanagan and Dara Doyle.
Investing in real estate investment trusts is a way to play that Brexit trade, analysts say. Local REITs are sitting on sites that could host firms looking for an Irish passport to sell into the EU, should the U.K. walk away from the single market. The Irish government has said it's aiming to add another 10,000 international finance jobs.

For more on Brexit follow Bloomberg on Twitter, Facebook and Instagram, and see our full coverage at Bloomberg.com
Before it's here, it's on the Bloomberg Terminal.
LEARN MORE