Brazil Faces Collapse If Reforms Stall, Says House Speaker
By
Rodrigo Maia warns economic crisis will deepen without changes

Speaker says chances are high of outsider winning election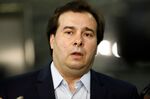 Brazil's democracy is at risk of collapse if it fails to approve fundamental reforms to its pension system and labor laws, the speaker of the lower house of Congress told Bloomberg.
Rodrigo Maia, who was re-elected to his position last week, warned that without downsizing a costly Brazilian state, the country would not emerge from its current economic crisis and faced a near 100 percent chance of electing a populist outsider in the next general election in 2018.
"The democratic system, not just Congress but the executive and the judiciary in Brasilia, could collapse if the reforms aren't approved," Maia said on Thursday evening in his official residence on the shore of the Paranoa lake in the nation's capital.
The government of President Michel Temer is embarking on a series of far-reaching reforms in an attempt to rein in a ballooning budget deficit, restore investor confidence and drag Brazil out of its worst recession in over a century. Last year, it succeeded in passing a constitutional amendment to freeze public spending in inflation-adjusted terms for up to 20 years. This year, the government is focused on an overhaul of the country's pension system and labor laws. Without changes, austerity efforts elsewhere will be in vain, it argues.
Without further measures to instill confidence, inflation, jobs and economic growth would worsen, resulting in the kind of breakdown in public order several Brazilian states have recently seen, said the 46 year-old. "The radical movements will moderate when they see we were able to pull off the country's economic recovery."
Dressed in a polo-shirt, his feet kicked up on a coffee table, and occasionally glancing at the results of a basketball game on his smartphone, Maia was visibly more relaxed than last week when he frantically cobbled together a majority for his re-election among the 513 deputies representing nearly 30 parties.
The banker-turned-politician was born in Chile where his father lived in exile to escape military rule. As a young man, he was forced to abandon his studies in economics and flee to New York due to death threats he received after his father returned to Brazil and became mayor of Rio de Janeiro.
As speaker, Maia has proved a loyal ally to the Temer administration which hopes to secure congressional approval for the pension and labor bills by mid-year, a goal Maia considers feasible.
But the bills face some pitfalls, including resistance from some within the ruling coalition who express unease about the belt-tightening measures. Brazil's politicians need to do more to showcase why the reforms are necessary to tackle inflation, unemployment and the recession, Maia said.
"This is a watershed moment."
Before it's here, it's on the Bloomberg Terminal.
LEARN MORE