American's CEO Says He Missed Trump Event for Work, Not Politics
By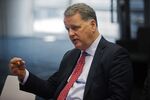 American Airlines Group Inc.'s chief executive officer told employees he skipped a meeting with President Donald Trump and other industry leaders to attend an internal company event, not out of any political motivation.
"Unfortunately, in our divided political climate, some assume my not being there was a political statement," CEO Doug Parker said in a message to American workers hours after the meeting Thursday. "Nothing could be further from the truth -- I would have happily attended the meeting and would like to have been able to do so."
Parker, who leads the world's largest airline, said he was "certain" he made the right decision to stay in Texas to deliver a message to 1,600 of the airline's managers. He said his remarks focused on company leaders "taking care of their team members."
American's agenda was "well communicated" to the Trump administration, along with the reason that he didn't attend, Parker said. The White House meeting included executives from the nation's largest airlines, airports and air-freight companies. The discussion with Trump focused on infrastructure spending, an overhaul of the air-traffic-control system and potential tax and regulatory changes, attendees said.
Before it's here, it's on the Bloomberg Terminal.
LEARN MORE