Trump Needs to Take a Tougher Line Toward Putin, Senators Say
By
Conflicting messages are 'unfortunate': Republican Corker

Result is a 'big, confusing mess,' Democrat Murphy says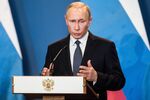 The Trump administration needs to take a tougher -- and more consistent -- stance toward Russian President Vladimir Putin, according to a leading Republican senator on foreign policy.
"How we deal with Russia is going to be one of the major projects for Secretary of State Rex Tillerson," Senator Bob Corker, chairman of the Foreign Relations Committee, said Thursday at a hearing of the panel. "Secretary Tillerson knows the dangers posed by Russia and the importance of restoring a credible U.S. deterrent so Moscow no longer exploits what it perceives as American weakness."
Reflecting exasperation by both Republican and Democratic lawmakers, Corker called the administration's mixed message "unfortunate." President Donald Trump has repeatedly called for better ties with Russia even as Tillerson, Defense Secretary James Mattis and United Nations Ambassador Nikki Haley voice a less conciliatory, and more traditional, approach.
Corker said Putin's government must be called out over its backing of Syrian President Bashar al-Assad and its annexation of Ukraine's Crimea region. His committee's hearing came as a group of Republican senators led by Rob Portman of Ohio and Lindsey Graham of South Carolina sent Trump a letter urging a more assertive approach to Moscow, singling out the need to respond to cyberattacks.
For a QuickTake on Ukraine's bloody standoff with Russia, click here
"The United States must have a firm response to this belligerent behavior from Moscow, which should include diplomatic actions, economic consequences, as well as a strengthened military posture in Europe," the senators said.
Many members of Congress have said Trump's desire for warmer relations is deeply unsettling to U.S. allies in Europe who remain wary of Russia's actions. The lawmakers were particularly angered by comments Trump made Sunday on Fox News.
After host Bill O'Reilly called the Russian leader "a killer," Trump responded, "We've got a lot of killers," adding, "Do you think our country's so innocent?"
"I see no moral equivalence -- none -- between ourselves and the actions Russia has taken," Corker of Tennessee said. That thought was seconded by Ben Cardin of Maryland, the Foreign Relations Committee's top Democrat, who said "there is no equivalence whatsoever." Cardin has proposed a bill that would require Trump to consult with Congress before lifting any sanctions against Russia.
Cardin has also called for an independent commission to investigate the U.S. intelligence community's assessment that Russia sought to sway the U.S. election in Trump's favor through the hacking of the Democratic National Committee and Hillary Clinton's campaign staff.
Trump and his Cabinet have sent a series of "unbelievably confusing messages to our allies that continue to be compounded as this Cabinet tries to make up for his weakness on Russia with very strong-sounding statements that just end up creating a big confusing mess," Senator Chris Murphy, a Connecticut Democrat, told an audience at the Carnegie Endowment for International Peace later Thursday.
Before it's here, it's on the Bloomberg Terminal.
LEARN MORE