Appeals Court Poised to Rule on Trump's Bid to Resume Travel Ban
By , , and
President argues national security at risk if court stops plan

State says employers, universities, residents would be hurt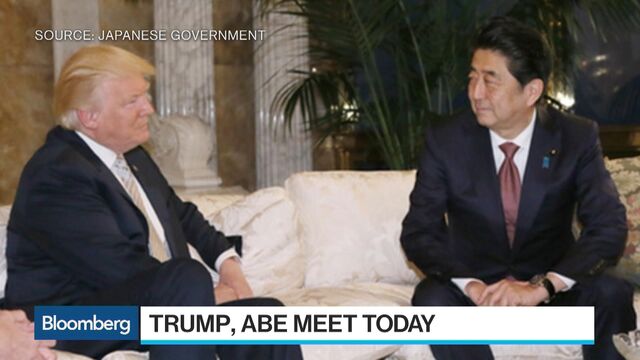 A federal appeals court said it will rule Thursday on the Trump administration's effort to re-start its temporary ban on refugees and travelers from seven Muslim majority nations in the biggest legal test yet of the president's authority.
The appeals court in San Francisco is poised to rule by the end of the business day on whether to throw out a Seattle judge's restraining order that blocked President Donald Trump's Jan. 27 directive. The appellate ruling will add to the increasingly complex web of lawsuits in Virginia, Massachusetts, Maryland and elsewhere that may ultimately set the policy in the high-stakes battle.
The court fights include a hearing Friday in which U.S. District Judge Leonie Brinkema in Alexandria, Virginia, will consider state Attorney General Mark Herring's request to block the temporary immigration ban. The case list grew Thursday, as a suit was filed in Washington D.C. on behalf of several individuals and four Iranian-American organizations to overturn restrictions on people traveling to and from Iran.
Brinkema on Feb. 3 allowed Virginia to take the lead in a civil lawsuit challenging Trump's ban, which was filed by two Yemeni brothers who claim they were tricked into leaving the country while traveling to visit their father in Michigan. The judge also extended to Friday a temporary restraining order barring the federal government from enforcing the president's ban as it might apply to legal permanent U.S. residents including green-card holders and those with work visas. 
Friday's hearing will be the most in-depth analysis to date of the arguments against the travel ban, Michael Kelly, a spokesman for Herring, said in a statement. Other hearings have focused on a temporary halt to the ban, while Herring is seeking a longer injunction that would put it on hold until a trial could be held, which could take weeks or months.
Move the Ball
Steve Wermiel, a professor at American University Washington College of Law, said it would "move the ball forward in a significant way" if Virginia were to prevail in its challenge to Trump's order.
"A preliminary injunction is more long-lasting" than the temporary-restraining order at stake with the appeals-court ruling , because it will be based "on more of a genuine consideration of the merits of the case," he said.
At the same time, Wermeil said it is "hard to know exactly," given that so many cases are moving through courts around the country.
Trump's Refugee Ban and the Legal Battle Over It: QuickTake Q&A
Washington state Attorney General Bob Ferguson, who won the nationwide halt to Trump's ban that is before the San Francisco-based appeals court, is also asking the Seattle judge to issue a preliminary injunction in that case. Ferguson, in a case joined by Minnesota and supported by more than 100 technology companies, 18 other states and dozens of civil rights and other groups, will make his arguments in a court filing due late Thursday for a more permanent halt to Trump's ban.
'Fundamentally Unfair'
Virginia argues in its case that the executive order violates the due-process rights of hundreds of the state's residents who are lawful permanent residents and visa holders from the seven countries affected by the ban, including university professors, students, business owners, employees and family members.
"It would be fundamentally unfair and discriminatory to permit the respondents to summarily revoke an individual's legal right to be in the U.S. for no reason other than that they were born or naturalized in, or traveled through, a majority-Muslim country," Herring said in court papers.
Trump argued that his right to suspend the entry of any class of alien as president is authorized by Congress and "unreviewable" by any court or state. The administration said in court papers that Virginia "has done no more than engage in speculation about the potential economic effects of the itself-speculative 'chilling effect' of the order on travel by foreign students and others."
The case is Aziz v. Trump, 17-cv-116, U.S. District Court, Eastern District of Virginia (Alexandria).
— With assistance by Erik Larson
Before it's here, it's on the Bloomberg Terminal.
LEARN MORE