pursuits
RBA's Lowe Says Tough to Argue Currency Too High With 3% Growth
By
Reiterates concern at debt build up with higher house prices

Risk of pushing up debt, housing not worth a bit more growth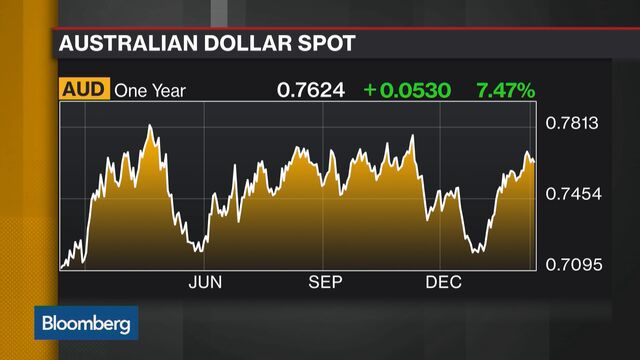 Australia's central bank Governor Philip Lowe said he uses a framework involving interest rates and the economic-growth outlook -- currently 3 percent for this year and next -- to assess whether the local dollar is at an appropriate level.
Against that backdrop, "it's hard to say that the exchange rate is fundamentally too high," he said in response to a question after a speech in Sydney Thursday evening. 
"If the global outlook were to change and the exchange rate/interest rate combination led to growth being downgraded, then you could make the case that the exchange rate was too high," he said. "But at the moment I struggle to say the configuration is leading to growth outcomes that aren't satisfactory."
The Reserve Bank of Australia has said in recent months that the currency's depreciation since 2013 -- when it bought more than $1 -- has assisted the transition away from a mining investment boom, and that an appreciating exchange rate could or would "complicate" the adjustment. Lowe's comments signal he's sanguine about the currency despite the Aussie dollar shooting up more than 5 percent last month.
The governor reinforced the view that he's disinclined to cut rates further when responding to a question involving the housing market, household debt levels and inflation.
Lowe said he didn't believe it was "in our interest" to encourage people to borrow more and push up house prices even further "just to get a bit more growth this quarter or next." 
"I think we could later on come to rue the day the level of debt went up even higher," he said.
One risk and consideration for monetary policy is that if debt went up further, consumption could be very weak for a period as households sought to rebuild their balance sheets, according to Lowe.
He said he didn't "really worry about" the resilience of the banking sector to declines in housing prices.
On inflation, the RBA chief said that because the 2 percent to 3 percent target is a flexible medium-term one, the bank has the capacity to take the financial stability issue into account.
"I want to make sure that over my seven years, just as Glenn did over his seven years, that inflation averages 2-point-something," Lowe said, referring to predecessor Glenn Stevens. "I'm confident we're going to do that, but we don't feel compelled to get inflation back to 2.5 at the earliest opportunity if it comes at the cost of higher levels of debt."
Earlier, in his speech, Lowe urged Australian lawmakers to take measures to boost productivity, supported the government's push to reduce corporate tax to keep the country competitive and backed efforts to rebuild fiscal buffers by bringing the budget under control. He also said there was "little change" to economic forecasts for 2017 and 2018 to be released in a quarterly update Friday and added the economy was about 90 percent through a fall in mining investment.
Failure to take action on productivity will mean "noticeably slower growth in our average incomes than we have become used to," Lowe told the audience of domestic and international investors. "In some ways, this adjustment has already started and it is proving difficult. On the more positive side, there is no shortage of things that could be done to lift our performance. The challenge is that most of these ideas require difficult political trade-offs."
Australia's political leaders have either proved timid or incapable of prosecuting the case for reform to the electorate, provoking a backlash that has seen the nation have four prime ministers in four years. Lowe also mounted a defense of an open international trading system, saying Australia had benefited greatly as exports boosted living standards.
"Australians have also benefited from the relatively free flow of financial capital," he said. "If we had had to rely on just our own resources, we would not be enjoying the prosperity that we do today. Our asset base and our productive capacity would be lower, and so too would our standard of living."
Before it's here, it's on the Bloomberg Terminal.
LEARN MORE