Mexico Raises Key Rate After Inflation Surges and Peso Stumbles
by and
Central bank has doubled borrowing costs since December 2015

Inflation rate surged by the most in 21 years in January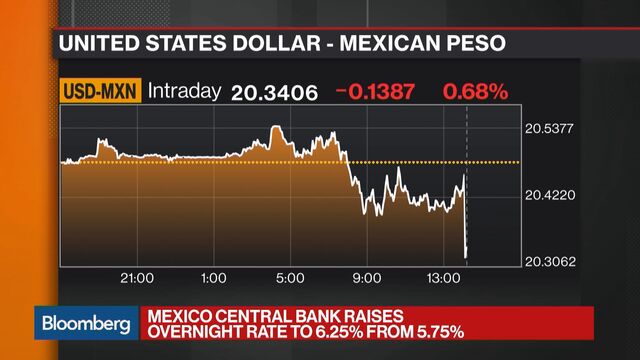 Mexico's central bank raised borrowing costs for a fourth straight meeting as President Donald Trump's election undermined the peso and fuel prices soared, sending inflation spiraling above target.
Banco de Mexico, led by Governor Agustin Carstens, increased the key rate by 50 basis points to 6.25 percent, more than twice the level of December 2015. Nineteen of 26 analysts surveyed by Bloomberg had forecast the half-point increase, six expected a quarter-point hike and one projected no change. The peso erased losses and strengthened 0.5 percent to 20.3777 pesos at 1:24 p.m. in Mexico City.
Mexico's economy is facing the prospect of low growth and high inflation thanks in part to Trump's threats to renegotiate free trade in North America and slap a tax on companies that send jobs south of the border. The peso's 11 percent decline since the Nov. 8 election through yesterday and the end of government fuel subsidies combined to send the inflation rate up by the most in 21 years in January. Banxico now faces the challenge of reining in consumer prices just as some economists are warning the country may slip into recession.

Banxico's statement was "consistent with more hikes in the following months, especially as inflation keeps increasing in the first half of 2017, but at a slower pace than the hikes so far," said Carlos Capistran, the chief Mexico economist at Bank of America Corp.
Policy Dilemma
Underscoring policy makers' dilemma, consumer prices in January rose 4.72 percent from the year earlier, up from 3.36 percent the previous month, the statistics institute said today. That was the biggest increase in the inflation rate for 21 years. Forecasts for annual inflation this year have also soared, reaching 5.32 percent, according to a Citibanamex survey of economists released Tuesday.
Banxico sees inflation above the target range of 2-4 percent in much of 2017 before converging toward the goal of 3 percent "in the final months of the year," according to a statement accompanying today's decision.
Economists also see economic growth slowing to 1.5 percent this year, the least since 2013. But some take an even dimmer view. PNC Financial Services Group Inc. forecasts that the economy will fall into recession and post growth of just 0.25 percent over the whole year, while BNP Paribas SA sees no growth at all.
"Banxico is trying to limit inflation expectations, which have been rising," Benito Berber, a senior economist for Latin America at Nomura Holdings Inc. in New York, said before the decision. "Although there are risks to growth, the risk that expectations get out of control is more pressing."
Trump Impact
Since taking office, Trump has withdrawn the U.S. from the Trans-Pacific Partnership, repeatedly vowed to renegotiate the North American Free Trade Agreement, which he has called the worst trade deal ever, and is mulling imposing a border tax on imports. Ford Motor Co. decided to scrap a $1.6 billion plant in Mexico after Trump threatened to tax the company on Twitter. Any threat of trade disruption hits home for Mexico, which sends close to 80 percent of its exports to the U.S.
Read more: How Trump's wall makes Nafta talks thornier -- a QuickTake Q&A
In addition to raising rates seven times since December 2015, Banxico has sold dollars to banks to shore up the peso, both last month and in February 2016. But the peso still remains below the psychological barrier of 20 per dollar.
Carstens has said that the surge in gasoline prices last month -- by as much as 20 percent -- after Mexico scrapped fuel subsidies, is a one-off driver of inflation. Banxico's board has said in the past that inflation will return toward the 3 percent target in 2018.
Before it's here, it's on the Bloomberg Terminal.
LEARN MORE