Merkel Pushing More Rapid Deportation Plan After Berlin Attack
by and
German leader's proposal faces opposition in election year

SPD, Greens reject greater centralization in deportations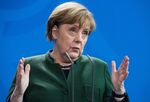 German Chancellor Angela Merkel is moving forward with plans for more rapid deportation of migrants who fail to qualify for asylum as her government responds to public anxiety after the Berlin terror attack in December.
Merkel reached an agreement Thursday with leaders of the country's 16 states to centralize the handling of asylum requests nationally and tackle a deportation process that's largely been handled by Germany's regions.
"The matter that we debated today is determining the necessary prerequisites for us to remain a land that can welcome those in search of protection," Merkel told reporters in Berlin. "It's about answering the question: what happens to those who have gone through a decision process and are then legally required to once again leave our country?"
As Merkel heads into an election in September in which she'll face a reinvigorated Social Democratic Party, she's pressing forward with the plan over objections from the rival SPD and the opposition Greens. They object to centralizing the deportation process. The government will now need to draft a law to make the changes that can win the approval of parliament.
The assailant in the December attack in the German capital that killed 12 people was identified by authorities as a Tunisian national whose asylum application had been rejected. He couldn't be deported without cooperation from Tunisian authorities.
Merkel's plan includes the creation of so-called "exit centers" near airports and financial incentives for failed asylum seekers who are willing to return to their home country voluntarily. It would also make it easier for German authorities to monitor and arrest those asylum seekers who are considered to be dangerous.
Before it's here, it's on the Bloomberg Terminal.
LEARN MORE